Yeoh Siew Hoon is the editorial director of Northstar Travel Media Asia and the founder and editor of Web in Travel, a content and community platform for online travel professionals in the Asia-Pacific region.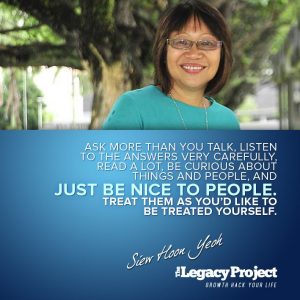 My Definition of Success | When you're younger, say in school, success meant being liked, doing well in class, winning prizes. Fortunately, I never did that well in class and so I wasn't defined by that notion of success. Instead, I spent more time at play and hanging out with friends and so that became my definition of success – the freedom of mind and spirit to have fun with people you like. I've tried to carry that definition throughout my career and life.

I Am Driven By | A desire to do better, be different and to be kind.

My Highlights | A: My father emigrated from Hainan, China, when he was a teenager. His mother put him on a boat to South-east Asia to save him from famine. He ended up in Penang, Malaysia, got married, had kids and never had an opportunity to return to his hometown because of lack of funds. As soon as I could, I bought a trip to Hainan for him and my mother to visit his home village and family. My mother said that was the first time he saw my father cry – when he visited the tombstone of his mother who passed away not long after he left on the boat.
B: Jumping on the opportunity to move to Hong Kong – the 12 years I lived there defined me as a journalist.
C: Taking that first step into full entrepreneurship 10 years ago. Giving up a corporate salary is scary but strangely liberating.

The Difference Between Good And Great | Caring. Really caring about what it is they do and why they are doing it.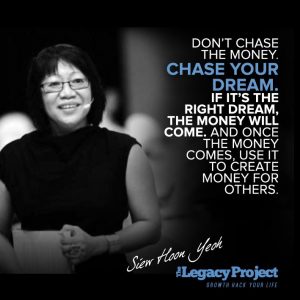 A Key Talent | Connecting dots between little things to make a picture, connecting dots between ideas and people, and connecting dots between people and people. I was born curious. I like to ask questions. I also like to listen. The answers give me ideas to write and talk about, and they also give me insights into the people I am asking questions of. Who's good at what? Who's good with whom? Who should work with whom on what?
If you were to ask me what is WIT's greatest asset, it is the people who've formed around our brand, our events, because we connect the dots that make up our part of the travel industry, we connect the dots between ideas and them, and we connect them with the right people to make their business successful.
I don't have a tip list on how I developed this skill other than, ask more than you talk, listen to the answers very carefully, read a lot, be curious about things and people, and just be nice to people. Treat them as you'd like to be treated yourself.

The Characteristics of Success | Enthusiasm, persistence and belief

Principles I Live By | Honesty. Sincerity. Loyalty.

Critical Skills I Develop | Writing, analysing, distilling, communicating, thinking quickly on my feet.

Lessons I Have Learnt | Don't wait for others to make your dream come true.
Move on, don't wallow.
Laugh a lot.
Keep love and friendship close, always. That's what will get you through the tough times.

Dealing with Doubt | Many ways, depending on the situation. I take long walks and talk to myself. I reach out to close friends. I skydive. Climb mountains. Travel. When you're in a dark place, you need to shift place and pace to get perspective.

Resources I Use To Stay Inspired | Books, movies, music, travelling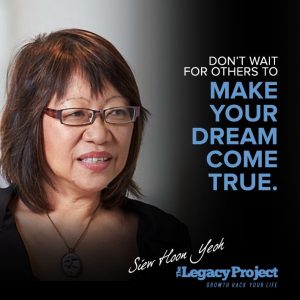 The Meaning of Life | Give and receive.

The Best Advice I've Received | Respect yourself and others will too.

Advice on Building Wealth | Don't chase the money. Chase your dream. If it's the right dream, the money will come. And once the money comes, use it to create money for others.

On Inspiring Others | Make it fun for them to work with you. Look after them. Challenge them. Coach them. Stick to your core values.

I Am Inspired By | Anyone who creates something out of nothing or very little. My mother built our home and family out of very little. Entrepreneurs who create new markets.