Welcome Msomi is a South African director and playwright, his long list of accolades shows his various talents and passions. He is the Chairman of Welcome Msomi Gateway Communications. Most serves as a director of Meropa Communications, as well as the Founder/Director of the Izulu Dance Theatre and Music established in 1965 in Durban. In 1979, Mr. Msomi established the extension of the Theatre in New York City.
He has won international acclaim as a playwright, choreographer and Director. His many works include Mntanami Nomhlangano Mntanami, Qondeni, Charrie Ntimbane, productions performed in South Africa and Swaziland; Phezulu, a music and dance production for the International Youth Festival in Aberdeen, Scotland; Black And White Is Beautiful, which toured Europe; Makhoba And Thembi, a screenplay inspired by Carl Foreman. He was also notated for the Sir Lawrence Olivier Award for choreography. He received a great honour by being involved with Nelson Mandela's 75th, 77th, 78th and 80th birthday celebrations. 
I Am Driven By | Creativity, I never stop of thinking of new ideas. I also like to create things that are totally different. Also realizing young people's growth and how to contribute to their growth.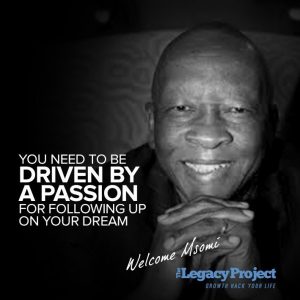 The Difference Between Good And Great | The difference is that you love what you do and you do not even look for money but you are driven by passion. It is a passion that helps you follow up on your dreams. Also make sure that even if people do not understand you and your ideas, that you remain true to yourself. Do things for yourself and that will set you apart.
The Characteristics Of Success | When people see you being successful, they always assume that you just became successful. The reality is that you have been at it for many years. Before it could be something that you have accomplished and made people get excited about. For instance, I have productions that started over 20 years ago which are only now seeing the light of day. When you have an idea, you work on it, you take it through and you believe that there are certain people who are going to what you have come up with, because they believe in you ideas.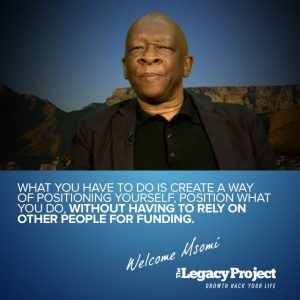 Lessons I Have Learnt | I have learnt to never be afraid to try and work on new ideas and that there are ideas that a bit of time to happen. Understand that the reason for something not to happen at that time is because it was not the right time. Over the years I have learnt that not all ideas will work immediately, this is part of learning.
The Meaning Of Life | The meaning to life for me is contribution is that everyone in this world is here for a reason. There is not a single person who can claim not to be a contributor.
The Best Advice I've Received | My mother was a teacher and although she was a very sickly person, she taught me everything. Everything from being responsible in the house to washing, cooking and baking. She used to say you do not have to wait for me, you are capable of achieving greater things. Even today I just love to bake and cook, I do not have to wait for my wife to do it for me. My mother has truly left an indelible mark on me.
I Am Inspired By | People who are like teachers and these teachers who stand up and have contributed to the things that I have done. For instance my agriculture teacher that taught me as a young boy, who taught me agriculture and life at the same time. In addition Professor Elizabeth Sneddon who was the Head of Drama at University of Natal also believed in me and believed in the things that I did which took me around the world.