Born and bred in the township of Khayelitsha in Cape Town, South Africa, Vincent Manzini is 27 years old and pursuing his dreams of entertainment and entrepreneurship. Vincent has been passionate about the entertainment industry nearly his whole life and has performed at multiple large events all around the country since the age of 16. He also co-hosted a radio show at Bush Radio, the local radio station in Cape Town.
My Definition Of Success | Success to me means, doing what you love and realizing your goals and dreams whilst enjoying what life has to offer. Over the years one's view on success has changed, at first I thought that money meant success but as I matured over the years my view on a lot of things has changed.
I Am Driven By | What drives me is passion. Passion about life, about people, new experiences and living.  As well as the ability to impact change.
My Highlights | Wining the SAB Kickstart People's Choice Award as well as runners up on the Business Award regionally and on a National level.   The second one has to be my unborn son….
The Difference Between Good And Great | I think good people get comfortable. Great people, don't!
A Key Talent | I think what I have learnt and continue learning over the years is playing to my strengths and allowing people who are stronger in certain areas perform their tasks effectively. Also understanding that timing is everything. Patience is a virtue indeed.
The Characteristics Of Success | I think one of the most important things but very important is the ability to always show up, no matter what. The other thing is important to always deliver when you are given the opportunity to deliver.
Principles I Live By | Integrity and honesty mean everything to me.  These values are most important to me.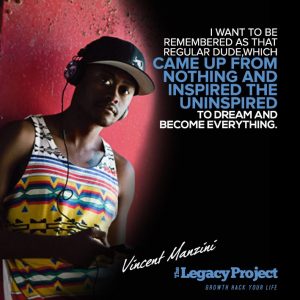 I Am Inspired By | My Mother, she's my rock!
The Legacy I Would Like To Leave |  I want to be remembered as that regular dude, which came up from nothing and inspired the uninspired to dream and become everything.