Tom is Chief Executive of Crossword Cybersecurity plc, a European stock market quoted technology company. Previously he was Managing Director of Callcredit Consumer Markets, a private equity backed information business. He was founder of Garlik, the online identity protection company with offices in London and New York. Garlik was selected as a World Economic Forum, Davos 2008 Technology Pioneer. Tom has been an innovator in the technology industry for over 20 years and is an international expert in cyber-security. He served the International Telecoms Union, a Geneva-based UN-agency, as a member of the High Level Expert Group on Cybercrime and was Chairman of the UK Technology Strategy Board's Network Security Innovation Platform.  Tom comments regularly in the media and at conferences on identity theft and cyber-security issues.
My Highlights | The highlight of my career was to be selected as a world economic forum, technology pioneer and to attend and present at the annual world economic forum summit in Davos, Switzerland.
A Key Talent | Tthe one strength that has been critical to my success is the ability to handle failure. Failure is a natural part of learning and growing. I fail often, but it's the way I deal with it that has helped me. I accept the disappointment that I feel. Then I assess the situation, re-commit to my goals and then step out again and try, try, try again. once I focus on a goal i just don't stop.
Critical Skills I Develop | The most critical skill that I have used and developed is the ability to listen without having a point of view. Listening is a far more important skill than speaking.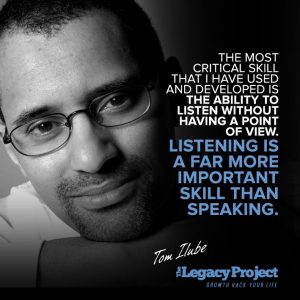 Performing At My Peak | I am not always performing at my peak. The challenge is not to always perform at one's peak. The challenge is to rise to your peak at the points in your life when it is demanded.
My Future Dreams And Ambitions | I am building a school for gifted African girls to study science and technology to help develop the world leading scientists of tomorrow.
The Best Advice I've Received | I practice the ancient Chinese martial art of tai chi and have learnt a lot from the philosophy behind it. It is about using internal rather than external strength. It is about using your opponents energy or the strength of the world around you to achieve your goals rather than trying to overpower them.
Advice On Building Wealth | My advice to someone who wanted to grow rich and build wealth is to change their goals. Life is not about wealth, it is about what contribution you make to those around you. If the by-product of that contribution is wealth then so be it, but that cannot be the end goal.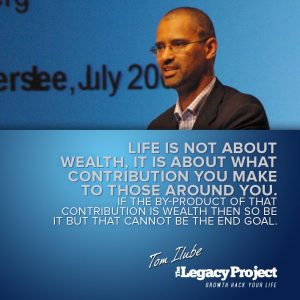 On Inspiring Others | I create a big vision of the future that stretches and inspires. Then I invite brilliant people to join me on the journey.
I Am Inspired By | Richard Feynman, a Nobel prize winning physicist is my role model. He lived a full and incredible life. He immersed himself in his subject and had a beautiful mind, yet he lived a full and joyous life.
The Legacy I Would Like To Leave | If one of the students from my maths and science academy went on to achieve greatness in their field in the distant future, long after I am gone, then I will feel that my contribution has been worthwhile.

Useful Links |
YouTube: