In 1870, Thomas Edison set up his first small laboratory and manufacturing facility in Newark, New Jersey, and employed several machinists. As an independent entrepreneur, Edison formed numerous partnerships and developed his products for the highest bidder. Often that was Western Union Telegraph Company, the industry leader, but just as often, it was one of Western Union's rivals. In one such instance, Edison devised for Western Union the quadruplex telegraph, capable of transmitting two signals in two different directions on the same wire, but railroad tycoon Jay Gould snatched the invention from Western Union, paying Edison more than $100,000 in cash, bonds and stock, and generating years of litigation.
Don't Give Up | Our greatest weakness lies in giving up. The most certain way to succeed is always to try just one more time.
Nearly every man who develops an idea works it up to the point where it looks impossible, and then he gets discouraged. That's not the place to become discouraged.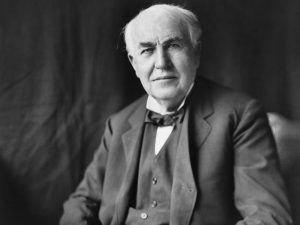 Many of life's failures are people who did not realize how close they were to success when they gave up.
On Opportunity | Opportunity is missed by most people because it is dressed in overalls and looks like work.
The End Result | What you are will show in what you do.
Search And You Will Find It | There's a way to do it better – find it.
The chief function of the body is to carry the brain around.

Steps To Success | The three great essentials to achieve anything worthwhile are: Hard work, Stick-to-itiveness, and Common sense.
There's No Easy Way | Genius is one percent inspiration and ninety-nine percent perspiration.
There is no substitute for hard work.
Keep An Open Mind | Just because something doesn't do what you planned it to do doesn't mean it's useless.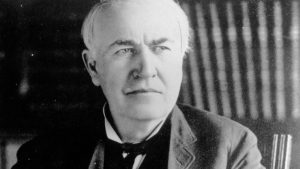 Work While Waiting | Everything comes to him who hustles while he waits.
On Death | There will one day spring from the brain of science a machine or force so fearful in its potentialities, so absolutely terrifying, that even man, the fighter, who will dare torture and death in order to inflict torture and death, will be appalled, and so abandon war forever.