Thabo Matlhako is an Executive Member of The Aleit Group – a premier wedding and events coordination consultancy based in South Africa.
My Definition Of Success | For me success is endless. As I achieve my set goals (short term, medium term and some long term) I set new success goals for myself. In essence my definition of success evolves.
I Am Driven By | Creating a better life for all.
The Difference Between Good And Great | People that are good at something are often trained and master the art of that trade whereas those that are great are passionately born with a gift to master the trade.
Critical Skills I Develop | Educating myself and this is not by any means only classroom qualifications. I often quote "education is everyday and everywhere" we learn everyday and lessons are everywhere around us.
Performing At My Peak | It is not an easy thing to remain consistent at, but having the eye on the prize – being mindful of the end results.
Resources I Use To Stay Inspired | I learn more from interacting with people than books have ever taught me. I surround myself with people of a much higher insight than myself and I draw a lot of knowledge from them.
The Meaning Of Life |  Foremost self-contentment and then making a difference and changing lives besides yours for the better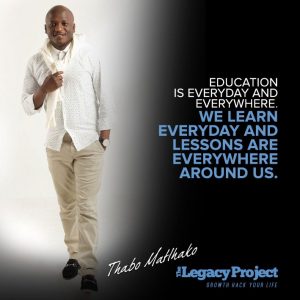 Advice On Building Wealth | Pay your TAX, tax evasion is a downfall of a lot of individuals in pursuit of wealth. On a more serious note, financial competency is of utmost imperative. Being good at what you do means nothing if you can't manage your finances.
I Am Inspired By | I draw different inspiration attributes from different individuals. NO one person in particular.