Thabiso Mokomele founded his company T-Squared Clothing by selling printed T-shirts to his classmates in high school as a way to pay his school fees. After receiving positive feedback, he decided to transform this school-fee scheme into a fully-fledged business. The clothing has a store in Gugulethu, Station Park and often has pop-up stores in various township spots. He saw a gap in the local clothing industry of Cape Town. At the time, there were no clothing brands from Gugulethu, the township from which Thabiso hails. The brand slogan is "If poverty is a struggle, hustle hard for a cure" and he thought of no better way to hustle than through clothing. He wanted to get the message out there, so naturally, he hustled and used his my allowance money from his parents to pay for production. He also saved money to buy a sewing machine and to open the first store of T Squared. Our main objective is to integrate the mindset of people in the townships of South Africa and make fashion another stream where different nations meet. Their well-known slogan encourages people to wake up and do something with their lives!
My Definition Of Success | Success to me means loving what you do. doing what you love and being happy and comfortable with what you have. Living out your dreams is what I call success. My definition of success has never changed, because I believe that if you love what you do, there is no need for change.
I Am Driven By | The fear of being average.
My Highlights |  In my life this has to be when I went through the Sotho Initiation School and coming back as a man, to me that is when I saw that anything in life is possible. My biggest career highlight has to be opening my first clothing store in my hometown, secondly , meeting Ian Moir (The Woolworths Group CEO) personally, completing my honours degree and lastly being featured in Destiny Man Magazine.
The Difference Between Good And Great | To me the difference between the two is talent. People who are usually great are those that have talent and passionate about what they are doing & those that are usually good are those with the intention of doing a job just to make sure it is done.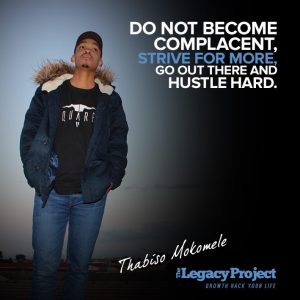 A Key Talent | My talent is clothing design, manufacturing and turning fabric into a fashionable clothing product. Out of all the things that I have done, I feel that this talent has always been dominant over the years.
Advice that I would like to offer to people that would like to become designers/ entrepreneurs is to always try to seek knowledge from other people and take advice from those that have been in the industry longer than you. Secondly, work with the people that have the same ambitions as you and cut out those that are not as passionate as you. Lastly, Cut out the middle man and do the actual business yourself because when you have a middle man you lose a lot of money but when you do it yourself that is when you start saving.
Lessons I Have Learnt | You need to execute your plans, before someone else uses them or does something similar. Avoid procrastination, this has affected me in many ways, academically, and business wise etc.  Time management is very important.
Performing At My Peak | I always look at where I come from and always remember where I want to be in life.
Resources I Use To Stay Inspired | Reading inspirational books (Rich dad Poor Dad by Robert Kiyosaki ) , keeping up with what my role models are doing  and also educating myself by attending business conferences / seminars.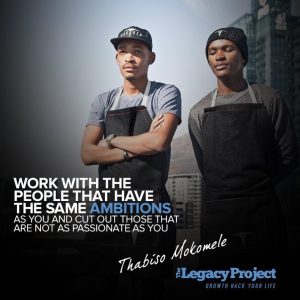 The Meaning Of Life | To me life is an opportunity that we have been given by GOD, to make a change in the world. Whether you use / or play with your opportunity that is a choice you make.
The Best Advice I've Received | I was told to follow my dreams and make them work and if that does not happen, someone else will hire me to build their own dreams.
Advice On Building Wealth | Follow your dreams and then the rest will follow. Do not become complacent, strive for more, go out there and hustle hard