Takaharu Tezuka is a Japanese architect. In 1994, he and his wife Yui Tezuka founded the Tokyo-based firm Tezuka Architects. Projects by Tezuka Architects include the Roof House, Echigo-Matsunoyama Museum of Natural Science, Fuji Kindergarten and Woods of Net. Their recent awards include Japan Institute of Architects Prize (2009), Association for Children's Environment Design Award (2011) and OECD/CELE 4th Compendium of Exemplary Educational Facilities.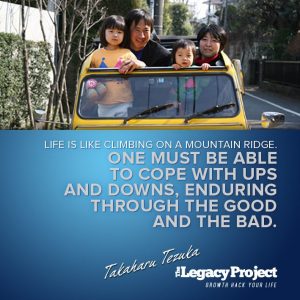 My Definition Of Success | I feel successful when I believe I did something good for people. That person could be a family member, neighbor or someone on the other side of the world. Many associate financial gain with success. Financial achievement helps one support a family. However, there is more to caring for a family than money. First and foremost, I aim to provide happiness to my family. Because I am happy, I am able to bring happiness to others through my work. I believe it is an architect's job to provide happiness to others. I always tell my students and young architects, "if you don't know happiness, there is no way to provide happiness to others."
I came to realize this when we designed a building called, "Roof House." The house is centered around a roof where the family can enjoy many activities together. I found the house kept the family very happy. The owners also found that the design fostered a happy household. The wife is a professional counselor in a junior high school. One day she brought a troubled student to the roof of the house, and he said, "I would be a better man, if I grew up on this roof." I found this statement to be symbolic of architecture's influence on our daily lives. Since then, we continue to have similar experiences with each completed project.
We have worked to establish our portfolio with many project types, learning many lessons along the way. These projects include: Fuji Kindergarten, where children run around on top of an oval roof. Child Chemo House, where children suffering cancer can spend time with their family in a clean environment. Asahi Kindergarten, built from salvaged 400-year-old trees destroyed by the Tsunami in 2011, continually reminding the community to gather upon it and other high grounds during times of disaster. Waku Work Center in Cebu, Philippines, providing an opportunity for people in the impoverished Lorega district to gain working skills. Whenever we visit one of our completed projects, we observe happiness. The smiles of our clients and users are the sign of success and our ultimate reward.
I Am Driven By | Family
My Highlights | Every moment of my life. I look forward to seeing the next day.
The Difference Between Good And Great | Confidence.
A Key Talent | What we design is based on our experience not only on our imagination.
The Characteristics Of Success | We only do what we think is the right thing to do.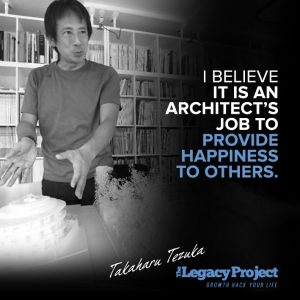 Principles I Live By | Smile.
Critical Skills I Develop | Observation and analysis. The balance between these two. Architecture is about daily life yet still science is needed, especially in structural analysis.
How I Use My Mind | Being local allows people to be international. Understanding what we are, helps us in relating to others.
Lessons I Have Learnt | There is not one outstanding lesson from my experience. Every opportunity to meet people is a very important lesson.
Dealing With Doubt | We don't believe anything negative. Every experience is a part of life. Life can be shaped as we like. I always believe we have chosen the right path and are in the best possible place we could be.
Performing At My Peak |There is no peak performance in my lifestyle. Life is like climbing on a mountain ridge. One must be able to cope with ups and downs, enduring through the good and the bad.
Resources I Use To Stay Inspired | Books and piano. When I play Chopin, I feel what I am.
My Future Dreams And Ambitions | There is no goal. I want to design everything we can to make people happy; schools, hospitals, train stations and airports.
The Meaning Of Life | We live for children.
The Best Advice I've Received | "Observation is important." by Sir Peter Cook.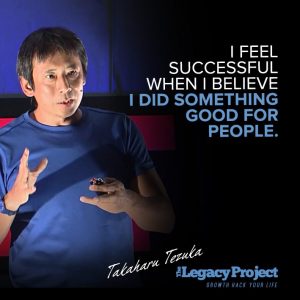 Advice On Building Wealth | I don't know. I want to know that too.
On Inspiring Others | I treat them as part of my family.
I Am Inspired By | Lord Richard Rogers, who gave me the feeling of being part of a big family.
The Legacy I Would Like To Leave | Good architecture

Useful Links |
Watch Takaharu Tezuka's TED Talk: