While pursuing an MBA at Gordon Institute of Business Science, SPARK Schools co-founders Stacey Brewer and Ryan Harrison decided that, instead of waiting for others to create the change in education, it was up to them to do so. Ryan and Stacey wanted to create schools where they would be proud and confident enough to send their own children. Although Ryan and Stacey did not have experience in the education sector, they believed that their fresh approach to education combined with their business acumen would offer a sustainable, high quality solution to the education crisis in South Africa. SPARK was born, with a mission to provide access to high quality education for all South Africans through the accessibility of affordable education.
SPARK Schools is a network of primary schools dedicated to delivering accessible, high quality education. SPARK Ferndale, the first school in the SPARK Schools network, opened in 2013, and achieved tremendous academic results in its first year of operation. Following on this success, the SPARK team opened SPARK Cresta in 2014, SPARK Maboneng and SPARK Bramley in 2015, and is opening 4 new schools in Gauteng and the Western Cape this year.
My Definition Of Success | The biggest thing for me is that the people around me are growing, achieving and dreaming bigger than they've ever thought was even possible. So it's a sense of empowerment. That's what success is, that the people around you are growing.


I Am Driven By | For me it's change. I think destruction, innovation, especially destruction means a change of mind-set. What really drives me is how people at Spark, both staff and parents were told that what they were getting themselves into was impossible to do, however we are achieving greatness every single day. These mind-sets are just changing, perceptions are changing, people are believing in something far bigger, far greater and that's what keeps me going.
The Difference Between Good And Great | People that are great at what they do are full of good, they're relentless. It doesn't matter what situation they face, they will constantly be striving to make sure that their goals and dreams are reached. I'm relentless. You have to be, because there are so many tough times and you need to have to see the bigger picture to keep you going.
A Key Talent | My stubbornness. I'm extremely ambitious and constantly strive for excellence, mediocrity kills me. I'm constantly striving for something more and I think that's what really drives a lot of people as well.
Principles I Live By | I think the most important principles I live by are trust and honesty. For me it's absolutely critical,  if it's not there, I feel there's no foundation for any relationship whatsoever. Being very integral with consistently, I would say your values need to be reflected in your behaviour.
Lessons I Have Learnt | You need to be aware of self-reflection, self-growth and how critical it is, especially as a leader. You constantly have to be growing and reflecting on who you are as an individual. By knowing your strengths and weaknesses, but loving yourself for it. If you've got self-knowledge and self-progress you're unstoppable.
Dealing With Doubt | Support structures that you have in place are very important. For example, the co-founder at Spark that I work with, Ryan Harrison is always advising me. So when I doubt or don't believe in myself, they're the ones that are constantly striving and ensuring that they show me that they believe in me. More than often, they believe more than I sometimes believe in myself and just keep me going. So I'd have to say support structures are very important.
The Meaning Of Life | To ensure that you leave the earth far better than you arrived on it.  That means that you've got a purpose, there's a reason why you're on this planet and that reason is to make it better. If you want your children's children to be happy and successful at whatever they do, it's your responsibility on earth to make sure that's it's better because of you.
The Best Advice I've Received | Self-belief. I look at all my mentors and the people in my support structures. They constantly say trust yourself, believe in yourself, follow your instinct and it's so true.
Advice On Building Wealth | It is so nice to have but I think first and foremost they need to look at how they're contributing to the human race. If you wanted to grow rich and build wealth, I think you need to follow your passion, you need to follow what you completely believe in because it's such a roller coaster ride and it's such a tough journey.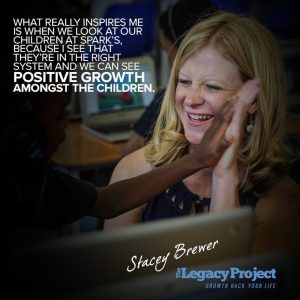 I Am Inspired By | What really inspires me is when I look at my children at Spark's because I see that they're in the right system. An inspiration role model is a Nelson Mandela. He was able to put his ego aside and look at the bigger picture and contribute towards making South Africa a better place. That is how everyone in South Africa and around the world should be thinking. I am also inspired by successful individuals such as Steve Jobs, who completely transformed and restructured many industries. It's an unbelievable achievement that he had the strength, endurance to get there. It takes a lot of determination.