Martin Rees is a leading astrophysicist as well as a senior figure in UK science. He was co-author of the report that launched the Global Apollo Programme, which calls for developed nations to commit to spending 0.02% of their GDP for 10 years, to fund co-ordinated research to make carbon-free caseload electricity less costly than electricity from coal by the year 2025. His most valuable research focused on the end of the so-called cosmic dark-ages period, shortly after the Big Bang period. After receiving a knighthood in 1992 for his services to science, he was elevated to the title of Baron Rees of Ludlow in 2005.
I Am Driven By | Not so much anything positive as the guilt and shame I feel if I'm idle, or not pulling my weight in joint projects or activities.
My Highlights | I've been very lucky to have had the chance to teach at a great university (Cambridge) and to spend time researching some of the most fascinating topics in science-the evolution of the universe, and the nature of the planets, stars and galaxies in it. This subject is advancing fast, and offers huge opportunities for young people — and South Africa's standing in the subject is rising fast.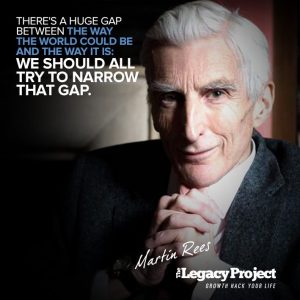 The Difference Between Good And Great | A combination of luck (being in the right place at the right time) and hard work.
A Key Talent | I can only offer advice to people who aspire to the kind of career I've had – namely a scientific career. It's important to get a good grounding in the sciences (and in computing) , and also to choose an area where progress is fast – either because of new discoveries, or new techniques.
Critical Skills I Develop | In these respects I have failed – I haven't tried hard enough to learn languages, nor to update my computer-linked skills.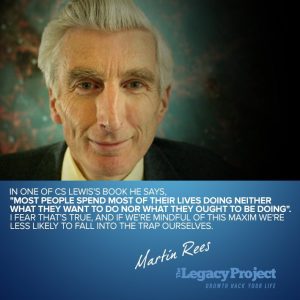 Performing At My Peak | Obviously one can't always be at one's peak. One must keep going even when one isn's: it's a key maxim of actors that 'the show must go on'. And of course as one gets older, one gets worse at many things – but in compensation I think there are some areas where growing knowledge and experience allows people to get better with the advancing years.
The Meaning Of Life | I'm not religious, and think that we've got to formulate our own goals and try to achieve them. In our ever more interconnected world there are many worthwhile causes to get involved with, and so many challenges. There's a huge gap between the way the world could be and the way it is: we should all try to narrow that gap.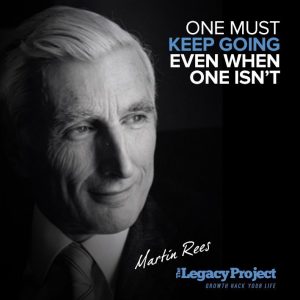 The Best Advice I've Received | In one of CS Lewis's book he says (and I may not recall the words quite accurately): "most people spend most of their lives doing neither what they want to do nor what they ought to be doing". I fear that's true, and if we're mindful of this maxim we're less likely to fall into the trap ourselves.
Advice On Building Wealth | I would tell them that money-making wasn't a specially noble goal and they should redirect their efforts towards something intrinsically worthwhile.
 Useful Links |