Shep Hyken is a customer experience expert and the Chief Amazement Officer of Shepard Presentations. He is a New York Times and Wall Street Journal bestselling author and has been inducted into the National Speakers Association Hall of Fame for lifetime achievement in the speaking profession. Shep works with companies and organizations who want to build loyal relationships with their customers and employees. His articles have been read in hundreds of publications, and he is the author of Moments of Magic®, The Loyal Customer, The Cult of the Customer, The Amazement Revolution, and Amaze Every Customer Every Time. He is also the creator of The Customer Focus™ program, which helps clients develop a customer service culture and loyalty mindset. In 1983 Shep founded Shepard Presentations and since then has worked with hundreds of clients ranging from Fortune 100 size organizations to companies with less than 50 employees. Some of his clients include American Airlines, AAA, Anheuser-Busch, AT&T, AETNA, Abbott Laboratories, American Express – and that's just a few of the A's!.
My Definition Of Success | At the beginning of my career, success was based on revenue.  Over the years I've changed from just financial goals to lifestyle goals. How much time off and how much fun I have is as important as how much money I make.
I Am Driven By | I have a passion for what I do. I didn't apply for this job. I made it my life's work. That's the business answer.  On the personal side, I'm fueled by my wife and kids. I am so glad we could afford to take time to go on vacations, travel, etc. Makes it all worthwhile.
My Highlights | I've been lucky to marry a wonderful woman and I have three amazing kids. On the business side, I started this company in 1983 and have continued to grow it over the last 32 years. That's a lot of staying power for this industry. Being inducted into the National Speakers Association Hall of Fame was also an amazing honor.
The Difference Between Good And Great | Most people don't realize that the difference between good and great is sometimes (usually) just a little more effort. It's the extra hour you work. Or, the extra few minutes you spend doing something that others won't take the time for. It's sometimes subtle, but the difference can be big.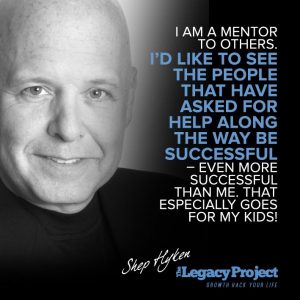 A Key Talent | I am a do-er.  I believe the biggest difference between many people who aren't successful and those that are is simple. Those that aren't as successful spend too much time thinking and not doing.  Those that are successful think and then DO! They act on what they have learned and use their intuition to their advantage. That's worked for me.  People say I'm at the forefront of my business. It's only because I act faster than most.
The Characteristics Of Success | I'm very disciplined. I have a good work ethic and like to meet deadlines. It doesn't bother me to work hard. I also try to work smart – getting more done in less time.
Principles I Live By | Honesty, open-mindedness, ethical, inclusive, considerate and happiness.
Critical Skills I Develop | Reading give me a continued education. I continue to hone my writing skills. I seek help, attend workshops and seminars on business and personal success – and most important, I implement what I learn.
The Meaning Of Life | My personal mantra in life is to have fun and make the kids smile.  I am a very happy person. I think that life is too short to not be happy. I want my kids to be happy (and good).  Please note that happy doesn't mean financially wealthy. It means HAPPY!
Advice On Building Wealth | Be focused. Get a mentor. Be patient. Save for retirement.
The Legacy I Would Like To Leave | I am a mentor to others. I'd like to see the people that have asked for help along the way be successful – even more successful than me.  That especially goes for my kids!