Shannon "The Cannon" Hudson, founder and CEO of 9Round Franchising, LLC is the current IKF Light Middleweight Kickboxing Champion of the World. He won his title on October 1, 2011 with a 6th round TKO victory. He trains under legendary boxing trainer Xavier Biggs, brother of 1984 Olympic Gold Medalist Tyrell Biggs. Shannon began martial arts at the age of seven, and has continued training ever since then. He has a 5th degree Black Belt in Japanese Shotokan Karate and a 4th Degree Black Belt under Joe Lewis's Fighting System JLFS.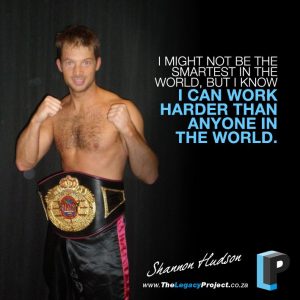 I Am Driven By | Opportunity drives me.  I am passionate about my craft and can't wait to get to work every day.  You know you love what you're doing when you're just as excited on Sunday night as you are on Friday night.  If you enjoy something, make a business out of it.  That's exactly what I did.
My Highlights | Several highlights include earning a 5th degree Black Belt in Karate, Winning a world title professionally kickboxing, getting married, graduating college, having kids, and building a million dollar company from scratch.  I'm very proud of all of them.
A Key Talent | One strength that I learned from my father is a strong work ethic.  I might not be the smartest in the world, but I know I can work harder than anyone in the world.  This is why I have been able to create things quickly.  When I have an idea I act on it.  I take heavy action quickly.  This has been the secret to my success.  The process works like this.
a) Get up early. (The early bird gets the worm)
b) Become a good reader by reading a lot.
c) If you want to become happier, read about happiness, if you want to become wealthy, read about wealth, etc.
d) Once you learn something, take action.
e) Once you fail (everyone will fail at one point) learn from it and start all over.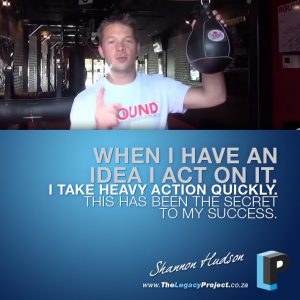 Principles I Live By | Of course, honesty, integrity, and tact is an important skill to develop.  It's easy to push people down with your words, emails, etc.  But it takes a real leader to pull everyone up that they come in contact with.
Performing At My Peak | To ensure that I am always performing at my peak, I try to exercise at least 4 time a week and eat correctly.  When you physically feel good, it helps performance improve.  I also practice.  We always get paid for preparation.  When I have a speech or presentation to do, I practice.  Repetition is the mother of skill.
Resources I Use To Stay Inspired | I love to learn.  I enjoy watching and listening to motivational speakers such as Jim Rohn, Zig Zigler, and Anthony Robbins.  I am always reading.  Currently, I am reading "The Compound Effect" and "The Happiness Project".  I would advise everyone to read "Think and Grow Rich" and "Rich Dad, Poor Dad".  Both are great inspirational books.  I often use YouTube while in the shower and getting ready.  I also use my CD player in my car to make drive time productive.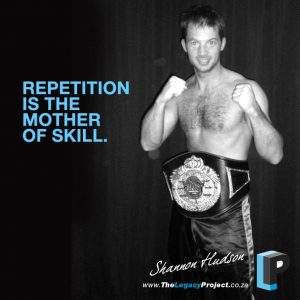 My Future Dreams And Ambitions | My goal is to have over 1000 global location open by the end of 2017.  I want to be the number one fitness franchise in the world.  I also want to give away over $1,000,000 in my lifetime to charity.  Being put in a powerful position, requires that I perform powerful actions.
The Best Advice I've Received | From Winston Churchill, Never, Ever, Ever, Ever Give Up.
The Legacy I Would Like To Leave | I want my kids to say, "Daddy was an amazing man.  He gave to the world in many ways".  That's a great legacy.