Sandeep Murthy is the Founder, Partner, and Managing Partner at Lightbox Management Ltd. Mr. Murthy was a Partner and General Partner at Sherpalo Ventures and focused on investment opportunities in India, spending nine years there till April 2014. As a Partner with Sherpalo he has been a part of two Indian technology unicorns ($1 billion value companies – InfoEdge and InMobi), with a third (GreenDust) on the way to joining the club. He has led Series A investments and taken operational roles such as CEO and head of Corporate Development in companies like InMobi, Cleartrip and GreenDust.
My Definition Of Success | Happiness. Over the years it's just become clearer what it is.
I Am Driven By | Making an impact.
The Difference Between good And Great | Tenacity.
A Key Talent | Open mindedness. If you're curious and willing to fail, it makes you vulnerable and more open to trying to new things.
The Characteristics Of Success | Effective listening.
Critical Skills I Develop | Storytelling.
Dealing With Doubt | The opportunities for self-doubt have been immeasurable. Having been through 5 jobs in the first 5 years of my working career, which included a failed start up, I had serious doubts about both my ability as an entrepreneur as well as my ability to be a productive contributor at a company. The second major time for self-doubt came as we worked to set up Lightbox. It took over 220 pitches to finally find a base of investors who were willing to buy into our proposition. The only way I made it through these situations, was by focusing on what I could control and trying to impact that… I think it is very easy to get lost in things that are not going well and focus on negative energy on those factors. Instead of that, I focused energy on what I could do to move things forward and hope that those aspects could change my fate.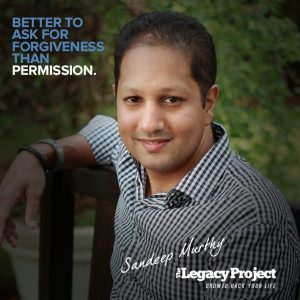 Performing At My Peak |Positive energy brings positive results.
Resources I Use To Stay Inspired | I think entrepreneurs' journeys inspire me most.
Advice On Building Wealth | Find something that sits at the intersection of a big market need and something you love doing and then surround yourself with people smarter than you to go after that opportunity.