Exploring the online realm via his areas of interest namely wine and education, Sam Paddock has developed Get Smarter with his brother Rob Paddock. Aiming to improve lives through better education, the brothers lead a dynamic team showing groundbreaking results. As a key note speaker, Sam also educates via his personal blog and here, shares other insights behind his inquisitive mind:
My Definition Of Success | Success means achievement of results in support of my purpose. My current understanding of my purpose is to see a world where people are growing stronger. My definition of success has certainly changed over the years, and I expect it to evolve further during the course of my life.
I Am Driven By | Increasing strength for our business, the people in it and my family, and the people in it.
The Difference Between Good And Great | An ethic of hard work, grit to get through the harder times, an appreciation for the people around one, and an appreciation for the complexity of the world and the wisdom to realise that we don't solely control, nor are we solely responsible, for our success.
A Key Talent | Speed. But I wouldn't offer this as a suggestion for others. This is me harnessing my own strength to achieve results. Others should determine what they are naturally good at, and harness that strength for success. Success happens in many different ways. There isn't a formula.
Principles I Live By | A dedication to learning, pursuit of what is most important, candor, an appreciation for the people closest to you, and playing to win.
Critical Skills I Develop | A dedication to an improved understanding of who I am, and how the world works.
Performing At My Peak | I don't. But I try. I try to manage my energy for optimal performance. This requires a heightened understanding of self, dedication to exercise and self reflection to manage the intensity of my business commitments.
Resources I Use To Stay Inspired | Books, audio books, podcasts, mentorship and coaching.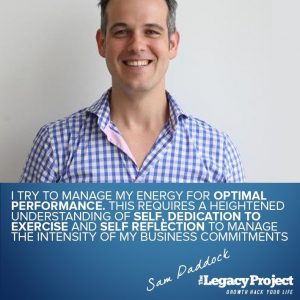 The Best Advice I've Received | The best opportunities are the ones closest to you. It was the advice that gave us the idea to start GetSmarter.
Advice On Building Wealth | Don't focus on wealth. Focus on serving a growing need for a growing customer base. Wealth will be incidental to that focus.
The Legacy I Would Like To Leave | Someone who contributed to others growing stronger.