Saif  Rashid is the founder director and CEO of Jita Bangladesh; a unique joint venture social enterprise of CARE International and Danone community and first ever massive scale women based bop Distribution Company in Bangladesh.  His initiative has been highlighted in Guardian newspaper in 2011 and Forbes magazine in 2010, the economist and different social enterprise blogs and by different business journals in Oxford University, DFID, Business Innovation facilities etc. He has been involved in developing several inclusive business models from philanthropic projects of Care international in last few years. He has been also involved and an expert of hybrid business plans for social investors, venture capitalist and corporate donors for preparing for investments, loans and currently working with several such projects in Bangladesh, Japan, Vietnam, Ghana, France, and India.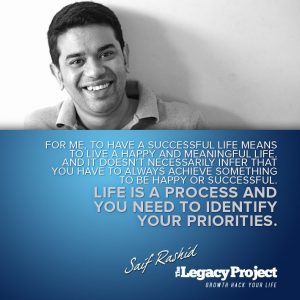 My Definition Of Success | Success is an abstract concept which definitely changes over time, over different set of experience. For me, to have a successful life means to live a happy and meaningful life. And it doesn't necessarily infer that you have to always achieve something to be happy or successful. Life is a process and you need to identify your priorities (they may also change over time). But if someone asks me twice on the definition of success, I would repeat that the 'feel' of success often occurs when you are creating something or in the process of some innovation which creates positive effect in some way. The definition of success for me has changed for sure- In my 20's to become successful meant to always reach a milestone. Now I know milestones are kind of supportive tools but not end goals of life's journey.
I Am Driven By | I am always driven by the idea of creating something new. So I guess bringing 'innovation' has always been the core motivational factor of my life. Another factor drives me immense- the force of love and smile. I love to see smiling faces wherever I go. And it is impossible not to mention about my beautiful wife and children and how they drive me to become a better man both in career and family context.
My Highlights | I am really proud of having my wife and children and the way we have always maintained harmony and excitement in family life. It is a blessing to have a healthy family life and it's not easy to maintain; so I must give most credit to my wife. If I be specific about my career path, then undoubtedly I will have to mention about my transformation from a worker to an entrepreneur. I am talking about creating this social enterprise (JITA Bangladesh) from a small project of CARE. During this transformation, I had to undergo countless challenges which I took as learnings. My dream of creating JITA would never have been possible if I had not stick to my vision and to my urge for innovation.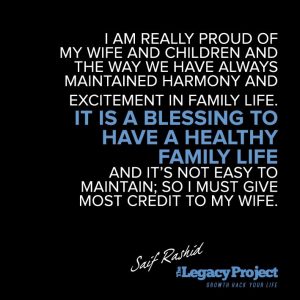 The Difference Between Good And Great | I find people don't differ much in terms of their skills and talents. But people who achieve greatness can visualize big picture and strive towards that with enormous courage and positivity
A Key Talent | I can see the big picture; this is the greatest personal asset I possess. My advice is- Don't get caught up in the short-term consequences and process, only then you can develop the ability to see the big picture
The Characteristics Of Success | I believe I have the nature of always putting priority on long-term results and impacts rather focusing on regular hustles and issues. This means I rely on my vision. Moreover, I try to lead a disciplined life which allows me to keep my focus on my long term priorities. And I am an early riser, early morning is the time when I think clearly and plan ahead. Also, I must mention that my habit of trusting people has helped me in the long run. You can't go alone in your dream path, you definitely need others and they need you. My philosophy is to live upon your dream by helping others in realizing their dreams.
Principles I Live By | It is important to have a clear vision of what you want to do with your life. One should never act upon the call of ego rather find one's true nature and inspiration
Keep your expectations low on others, you will achieve more.
Don't go with the flow, create a new wave.
How I Use My Mind | Keeping a proper attitude towards any circumstance is highly important. Whenever any crisis arises in between me and my dream, my mind assures itself that any situation is working as a guiding path to reach my goal.
Lessons I Have Learnt | Always respect people and treat people equally.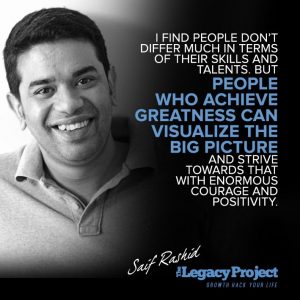 Resources I Use To Stay Inspired | People who understand the art of living (those who don't dwell upon negativity) Spiritual and leadership Books Family time in my living room as well as occasional friends gathering in quiet restaurants/resorts Soft instrumental music
Advice On Building Wealth | Always put focus on 'what I am going to do with all those money if I become reach' rather than 'how much money I can earn'.
I Am Inspired By | My father and Bill Gates.