Runa Khan is the founder and Executive Director of Friendship, a value-based organization in Bangladesh. Additionally, she is a Founder and Chairman of Friendship International based out of Luxembourg. Although currently her work is firmly rooted in the development sector, her interests and experiences are varied, resulting in an organization which approaches development innovatively for the most climate vulnerable and remote population. She has spearheaded the building of an innovative and successful  healthcare system for the hard to reach and most disaster prone ultra-poor communities,  comprising of hospital ships and mobile land-based operations, training of community medics at field level, and turning them as micro social entrepreneurs servicing their own communities through M health services, building up an educational system for the children and adults in remote char areas; and working extensively in disaster prevention, relief and rehabilitation of communities in Bangladesh and Pakistan. Her work to preserve the rich boat-building tradition of Bengal has been particularly commended both nationally and internationally.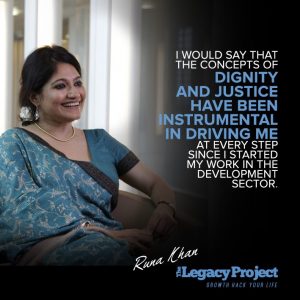 My Definition Of Success | Success is a constantly evolving idea to me. Each small step that contributes to my ultimate dream, the dream of seeing that the people I work with can stand on their own and take care of their own needs, is a success to me. When I first started my organization, Friendship, success to me was converting a river barge to a floating hospital so that some of the poorest and most ignored people in my country could have access to some sorts of basic healthcare solutions for free. What contributed to that success was finding people who took faith in me and helped me face the challenge by either funding the project or staying for months in some of the remotest parts of the country. The initial course of action was not that easy and it took a lot of courage for me to make that small attempt a success.
Gradually thereafter, my definition of 'Success' evolved as the overall need of my targeted communities evolved. The once sick and climatically vulnerable communities – these people were not prepared for any developmental solution that would help them come out of the bottom-most tier of poverty. Now when I provided them access to health care, they needed education, capacity to cope with disasters, support to earn sustainable livelihoods, and last but not the least, awareness of their basic social rights. And then I moved on.  Every little step that I made helped me stride a little further so that I could offer these people a sustainable community development solution. And I was not frustrated till the end.
Now I am overjoyed every year that the 100% of the children who receive primary education under my education program get 'A+' or 'A' grades in their primary exams. I celebrate when I see that a fisherman crippled by his debts to a deceitful moneylender is finally able to break away from his shackles and is able to earn money for himself under my sustainable economic development project. I feel relieved when the people living in our working areas are protected from the danger of natural disasters because of the safety of our plinths. When I see families choosing education for their daughters over early marriage, I know I am successful.On that note, I don't want to introduce myself as a social worker only, but as a mother too. Success for me also means the truly inspiring young men my sons have grown up to be. My eldest son is a remarkable photographer who is working towards the preservation of the wooden boat culture of Bangladesh. My second son is an incredible poet and has launched his own literary journal in Luxembourg. My youngest son is an aspiring astrophysicist who is currently studying in France.
On that note, I don't want to introduce myself as a social worker only, but as a mother too. Success for me also means the truly inspiring young men my sons have grown up to be. My eldest son is a remarkable photographer who is working towards the preservation of the wooden boat culture of Bangladesh. My second son is an incredible poet and has launched his own literary journal in Luxembourg. My youngest son is an aspiring astrophysicist who is currently studying in France.
I Am Driven By | I would say that the concepts of dignity and justice have been instrumental in driving me at every step since I started my work in the development sector. The people who I work for live in some of the most disaster-prone areas in the world and perhaps consequently are some of the poorest citizens of the country. Despite being resilient and determined, they live in close bars of poverty and misfortune that strip them off their dignity. These people have a right to live with hope and dignity but the injustice of being overlooked at every stage in their life makes me work harder towards ensuring a better and livable future for them. I live by a vision – a vision that they will eventually be able to reach a tipping point in near future from where they would be able to live their life independently 'having equal opportunity' as the mainstream society.
My Highlights | Nearly 13 years ago, when I went to see the small river islands (locally known as 'chars'), the people living there had nothing – no hope, no dream. Barely surviving, they were dying of the most common diseases, losing their near and dear ones every year. They could not even dare to answer questions of their children regarding where their next meal would come from. I cannot tell you how proud I feel when I now see them progressing economically. They are healthy and happy while their children are running around and going to school. They are finally free from a vicious cycle of poverty and misfortune that burdened them for generations. All this makes me proud. Their freedom, their smiles, their joys are not just worth my every attempt. They are more than that; they are just incredible!
My initial attempts were not without any critical remarks. Like any other social innovation, my small step towards a large community development was faced with doubts and criticisms from all around. I heard so many times that my efforts would be fruitless, that there would be no good out of working for the most underprivileged people of my country. Nevertheless, I worked relentlessly. My vision and willpower, along with the trust and belief in me and in my vision of all those who work, have made me stand where I am today. And now I feel proud because I know we have together achieved many 'Impossible' goals. This is, indeed, a long-awaited success for me.
I am a proud mother too. I was really proud when I read the poem of Shehzar, my second son, in Monsoon Letter's Publication released during the SAARC Literary Convention. My youngest son made me proud when he got 8 A* and A's despite illness in the family during his IGSC exam. And when I see my eldest son making some outstanding photography of one of the most cherished cultural heritages of my country, I know for sure that I am one of the luckiest moms in the world too.
The Difference Between Good And Great | "doing that little extra…"
Making choices before a position of "no choice" inevitably comes upon them / or I thrust upon them
Those having "non-negotiable values"
"Single-mindedness of purpose and vision"
Looking at "universal good" rather than only focused good for the self or those around them
Having very deep "ethical sense and sense of justice, equality respect and dignity" and "being able to translate this to reality in their work and way of life"
Those who are not "lead by greed"
Leading a life of "verity"
Having a "sense of philosophy embedded in their way of living and working"
I can only comment regarding my field of work- that is in the development field. With over 40,000 NGOs operating in Bangladesh, I think the difference between those NGOs doing 'good' and those doing 'great' lies in their transparency, reliability and accountability and above all the ability of transmitting self respect and dignity to all – this makes a project sustainable in the long term.. To me, a great NGO does not do project to work but rather works with communities with commitment towards them above that of the NGO or the donors requiremens. It stands beside its people when they suffer from heavy natural disasters or from some common physical ailments. It brings innovative models and technology to empower the poor and to nurture their social dignity and hope.
Every developmental organization is, by definition, formed to have a common objective – to help and serve a social cause. However, not all NGOs are able to make visible social impacts because they either fail to understand the needs of their targeted communities or are trying to implement a short-term eye-catchy solution.
An NGO that wants to do great never gives in to the idea of its other stakeholders if no long-lasting good can happen to its key stakeholder – that is the community that it wants to work for. It will not go for widespread publication or quick accumulation of donor funding; it will make every step consciously so that it can make all its community development interventions sustainable. It knows the fact that if the community survives, its success is the logical consequence. And so it remains transparent in its activities to reach out to people who are underserved, underprivileged, and unnoticed in every aspect of their social life.
Growth can never be target. It should not be so. Scaling deep has greater long lasting sustainability of the work. Every intervention needs to have a  long-lasting success and acceptance in the community.
I want our work to remain exemplary and in 500 years it needs still to maintain the values it started on though ways of work will have to be different. We are born to make this world better, and that is what we have to try to do ….leave a better world for the future. Our efforts has to create a positive impact; time must synergise our work into something which is meaningful.
A Key Talent | I have non-negotiable values. A clear vision which I think I can transmit to everyone in the organisation, single mindedness of purpose and no duplicity in mission. Every step I think there is verity in the work. I do not want the good of one project or idea to be negative for anyone unless it's a negative work of others. Eg I donot want our hospitals to destroy the business of the normal economy of the clinics in the areas, thus we go to remote areas where there is need but no access to clinics for the people.
These are some of the strengths .
People can replicate my talent by just having the commitment to do a little bit extra – be it in personal life or professional life. A commitment to stick to one's own social goals is something that can help him/ her make conscious decisions while serving the people. This commitment is keystone to every success. Sometimes, failure might get in our ways but we have to make those our learnings.
For example, when we started our first ever floating hospital – Lifebuoy Friendship Hospital – I told Unilever that with the amount we had, we could serve 600 to 1000 patients.
Today we have just completed 1 million patient for the ships and shall complete for our health care service, 10m patients, end of the year. This not by concentrating on growth but on quality with commitment.
The Characteristics Of Success | For me tenacity, persistence and unwavering belief in my work have been instrumental over the last 13 years in developing Friendship as it stands today and I believe they will also keep me motivated to serve our communities in years to come. Our working areas are some of the most inaccessible in Bangladesh; in the North our islands go under water almost annually while in the South we are barred by cyclones and water salinity. These issues were not enough to make me afraid. I was strong in my belief and I had faith in my work. And so I and my Friendship Family did never compromise with our beliefs and motivations. These beliefs and motivations were important in shaping our vision and were fundamental in creating our organization. We have grown as a family, with wonderful supporters joining forces, all of whom strongly believe in Friendship's principles and values.
One also needs great humility… as I say 'never mistake humility for weakness for the humbler you can be the greater is your strength".
We know that sometimes we are at the mercy of our nature – a tornado or a tidal wave can destroy everything that we have built so far in our working areas. But deep inside our mind, we share a common strength with those underprivileged poor people that we might be struck by bad luck once, not every time. This is the source of our modesty and humility – we accept the hard reality of life and do not get overjoyed at short-term results.
We also need to be exemplary in what we do and not only preach but actually be an example. In my early years, everyone used to say that because I could speak well, I should include advocacy  on human rights. However, I said that "I can teach about Human Rights to others only if after 10 years of service and founding an organization everyone in the organisation and my beneficiaries can say without doubt that there is justice in the organization."  We started our Human rights and goverance program 10 years after I founded Friendship. I cannot teach and preach without ensuring that there is reality in my way of working and way of life. Today, everyone within the organization believes it is striving for equity and fairness. Even those who leave the organization always spread positive words for us and still keep the bondage. They still like to connect with us for projects where they feel we can add value.
In addition, integrity, I think, is very important in shaping a person. I do not think I have ever overstated any truth for getting some benefits from our stakeholders.
Friendship's five core values are: integrity, dignity, justice, quality, and hope.  They are naturally my core belifes and way of working.
I believe these values are essential for long term success.
Dealing With Doubt | One of the most difficult hurdles I had to face was to find someone to believe in the idea of our first floating hospital – the Lifebuoy Friendship Hospital. People kept telling me that it was "impossible" , funding was nearly impossible to get.
I am from possibly the oldest family in Bangladesh. It was and still is very difficult for a woman in Bangladesh to create something which is too out of the box. It would be always – her husband is doing it!!!!! My husband had never done anything regarding Friendship except advise me as to how to take care of the technical side of the ships. Today with 3 ships even for that we have need someone else. Yet for many people even today – "it must be her husband!!!!"
I was brought up in an old fashioned environment and culture and family. Any kind of social change was a stigma. When I decided to make the first ever hospital ships in Bangladesh to serve suffering and ailing communities far from urban comfort, people who were in my surroundings and life, thought I was quite crazy.
"Every failure was learning" and jump for a new and better and wider service possibility. I took the opportunity to ensure that I can deliver this.
I had to make choices and decisions which were out of the box.
I had to give up social meetings and gatherings my way of life and living. My choice was my 3 children whom I adore and my immediate family and my work. My friends knew I loved them and would be there in need but I couldn't spend time with them. My aunt said once, "we have lost you but the country has gained you". Once cannot have everything – you have to make choices.
On Inspiring Others | You find good people at every level. However, it is just the question of identifying and nurturing them.  Great people exist – they are everywhere. We just have to deal with question of how we can find those great people who share the same values as we do. As per my human resource policy, I always try to think of ways by which I can motivate my employees and encourage them to have the same core values as Friendship. I do not just give my employees a career path; I give them a family.
For example, for our fleet of boats, we needed a marine engineer. Marine engineers in most cases expect to be highly paid. When we found someone who was honest and dedicated, we were afraid thinking that we would not be able to afford him. But then he said, "Ms. Runa Khan, I am joining your organization because all my life other people made money on my integrity, honesty, commitment, and ability. Today, I am joining you though you are paying less than the company I just left because I think I am becoming a part of something lot bigger. My talent serves not just one person or one company, but hundreds and thousands of most vulnerable communities in the country"
This is what happens when you remain strong on your values. I am also very lucky as the key strength of my message is reaching people nationally and internationally, and even among my beneficiaries. They are becoming the voice of Friendship and carrying the message of friendship. In short, the people around us become our families and ambassadors.
I do think that I was motivated by high ethical standards and moral values of my father. The social values that I integrated through people I love and through my family are keys to my achieving my goals so far. And today I have people around me who have incredible talents, skills and last but not the least, values – who believe in the mission of Friendship.
The Legacy I Would Like To Leave | Apart from my sons, the legacy I would like to leave behind is Friendship's message of hope and dignity for communities who think that the world has forgotten them. I want people to understand that if they are provided with a second chance, their destiny really lies in their own hands. I want them to grow with a sense of dignity, hope, empathy and humanity.
I will also leave among the people I have worked with the vision of equal opportunity to live with dignity and hope. The fact that I have contributed to this vision, even the slightest, is enough for me.
We were all born in this cosmos to leave a little positive element behind us so that it can synergise and grow over the eons. We live to leave behind something positive and to play our roles for the world tomorrow. We have to bring a positive impact on other people's lives, and make them smile and hope. I hope that the organization I will be leaving behind will have the capacity of innovating new solutions for bringing dignity and hope to the vulnerable communities across Bangladesh and other underserved countries in hundreds of years to come. But even more I sincerely want that the organization will be able to keep the same sets of values.
In my personal life, I'd like to leave the legacy of each of my sons. I will eagerly wait for them to become individuals, with a sense of ethics and values. I hope they will have a purpose in their lives which will be beyond themselves.