Romy Titus is the founder of Babies Behind Bars, an organization established in 2007 to assist convicted mothers whose children are born during their sentence. The inspiration to start this organization came when Romy discovered that prisons in South Africa and the rest of Africa allow babies who are born to incarcerated pregnant women to stay with their mothers until they are two years of age. Babies Behind Bars´ mission is to "Unlock Hope" for every child born within a Correctional Facility in South Africa, by creating a safe-haven for children who spend the formative years of their lives behind bars.The organization raises funds to supply child friendly environments to the prisons, like pretty painted walls and outdoor playgrounds, as well as proper nutrition, warm cots, disposable nappies, clothing and educational toys for the children that assist in their development during their time in jail.
Lessons I Have Learnt | You don't have to honk your own horn, because at the end of the day, what you do speaks for itself, especially when you are loyal, dedicated and honest about your trade.  Your work speaks for you. It's your advertisement, so better make it good. Those are the lessons that I've learnt. You don't have to try too hard, you don't have to impress people. At the end of the day, your work will do all of that for you.


Dealing With Doubt | A lot of times I think every person has to face self-doubt and negativity, it creeps in. It's always going to creep in but you have to rise above it. Honestly, I'm a mess. If the day gets too much, I have no shame in curling up on my bed, foetal position with my favourite blanket and I cry. It makes me feel better so I face the emotions and give them the attention that they seek and then pull myself together, especially when my eyes look like golf balls, and I've chilled teaspoons in the deep freeze to get the swelling down. I pull myself toward myself –  give myself a good talking to, and soldier on. I know a couple of friends who suffer from depression, and you I don't ever want to cry for twenty days on end and not leave the house. They're my motivation, that it does get better. So I acknowledge the feeling, I let it go, I cry, and then the way it works with me is I have to keep going!
Resources I Use To Stay Inspired | I read a lot. I'm a bookworm. So don't give me the movie, give me the book version of whatever you're talking about. I'll probably be as interested in it as you are.  I read a lot. I read about everything. Right now I'm reading about tiles. It's very bizarre, it's very arbitrary but I'm tiling a bathroom and so I read up about it so that I know what I am doing.
It's just that I like to be informed so that no-one can take me for a ride, being knowledgeable enough about it to speak from a place of knowing. And so whatever challenge I've got to take on I would do the same thing. I would read up about it, I would educate myself and then learn from the next person or the expert on it. Reading is a whole new world of escapism, of discovery, and so I read.
The Meaning Of Life | Living to your true potential. I think that's the meaning of life. Everybody lives, we all breathe and we take it for granted. That is the meaning of life; it's getting up in the morning, having a drive, having a purpose.  No-one can really give that to you, you've got to give that to yourself. If you're looking for people to fill the empty void inside of you, you're going to be empty for the rest of your life. Live for yourself.
Not selfishly but take yourself into consideration as well. I am a giver, I love giving but you know "givers need to set limits because takers rarely do". Live for yourself, do what makes you happy and forget about yesterday's issues and turmoil. It's an art you know, just forge ahead and being happy. But eventually it comes naturally like any other habit.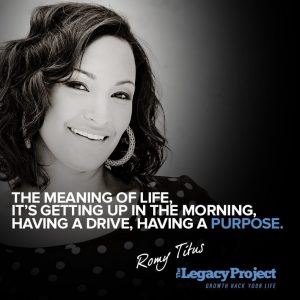 The Best Advice I've Received |  Trust no-one! That's what my dad always says. My dad says, trust no-one. It's a little sinister, but trust no-one. And to a degree he's right.  I have to say in certain situations where I said that, I found that it could not have been more right. So trust no-one. Or trust carefully.
I Am Inspired By | Very many people inspire me for different reasons. I can't tell you that I have one particular role model and that person I mould my life around. I think I'm my own role model. I've been through a lot in my little life.  I've achieved a lot, I have also fallen but I have also gotten up. So if I look back, and I look at all those different things I've overcome and the lessons that I've learnt from various people, I can't really pinpoint one person. I don't put myself on a pedestal, and I don't want other people to regard me as a role model, I think it's a lot of pressure. They put you on the pedestal and then everybody who put you there are the first ones to have harsh things to say when you fall from it. I'm human.
So I think I've learnt from my own life's trial and errors. If I had to just put one person, my late grandfather Alexander Titus would be my role model. He only had grade five schooling and managed to raise five children who are all educated with good degrees behind their names, he, with just that little bit of education taught me so much, in the time that he was alive. So I'd say that he's my role model.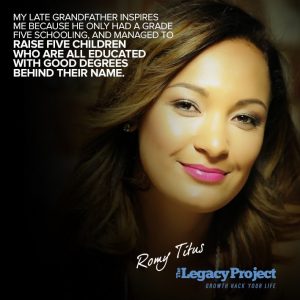 The Legacy I Would Like To Leave | That life shouldn't just be about you. Your life should be about enriching others and their lives. If there's anything I would like to leave behind, it would be that I didn't just live for me selfishly, but I lived to be the change and to make a change. I chose a cause and I fought for that cause…. And hopefully I changed some lives along the way.