Robert Nzaou-Kissolo, a Congolese photographer who lives between the cities of Cape Town in South Africa and Pointe Noire in the Republic of Congo. He has been documenting daily life on the streets of Pointe Noire since early 2014 as an ongoing project in a variety of themes. These themes discuss the imagery he sees around the city of how Congolese people contrast with what they themselves perceive as beautiful. While focusing on particular issue in his photographs, Robert enjoys capturing a range of subjects: people, street signs, and advertising boards. The common denominator is that he finds a human interaction within the space. Before Robert discovered his passion for photography, he was an academic studying marketing management at the Cape Peninsula University of Technology. While he was studying Robert fell in love with music and became a rapper, beat-maker and later a Hip hop blogger. While he was running his blog, he discovered the power of images and he understood that words alone could not make the post complete unless there was a picture. He then took to researching relentlessly on street photography through YouTube tutorials and documentaries to learn the craft of photography and then started his photographic journey on the streets of Cape Town.
My Definition Of Success | Is being able to do what I love and being able to earn a living from it. I also firmly believe that being surrounded by people that support and love my, like my family.
My Highlights | In life have to be finding my purpose, it happened later in my life but I'm very happy about it. Photography has changed my life for the better. In my career my highlight has be when I got into photography, about three years ago.  I couldn't afford the camera that I wanted, but that did not stop me from studying photography through books and YouTube videos. It was very frustrating not being able to apply what I was learning. I started taking pictures with my Blackberry and borrowed cameras which led to my first photo exhibition called Fond Tie Tie. With the money raised from the exhibition I was finally able to buy my first DSLR camera.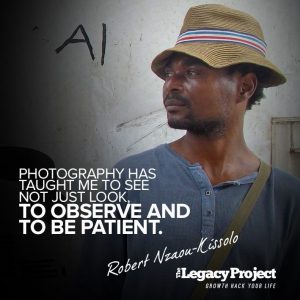 The Difference Between Good And Great | Being good is normal, being great is special. I think people are great at what they do when they do only what they love. For example, I do not know a single great photographer who uses photography only as a hobby. Full commitment and risk taking must be a part of it. The more time you spend on your craft the better you become.
The Characteristics Of Success | Photography has taught me to see not just look, to observe and to be patient. I used to always browse and not pay much attention to my surroundings or what was happening around me. Since I started taking pictures I was forced to slow down because that is the only way you can be in the moment, I started seeing beauty everywhere. I became interested in life, I discovered that every human being is special, every place has a story to tell and nature works in harmony with the beauty of light. To be a photographer you have to love photography and make sure you study the art form. I literally eat, sleep and live photography. I have studied the masters from Robert Frank, Cartier Bresson, Eugene W Smith to more contemporary artists such as the late Congolese photographer Kiripi Katembo. By doing so you get to understand what it takes to be great.
Principles I Live By | I think finding balance in life is crucial to ones happiness. In the pursuit of money we tend to forget other important things in life such as family, health, love. Always try to live in the moment.
Critical Skills I Develop | Human interaction is critical when it comes to photography and being able to connect easily with strangers has made my life easier. Knowing your equipment is also very important. When I got my first camera, I made it my mission to figure out the manual settings, it has really changed the way I take pictures, allowing me to add a more personal touch to my work.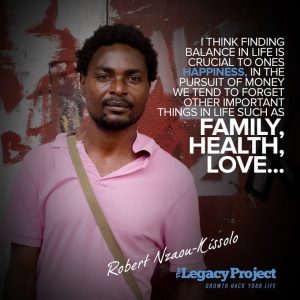 Lessons I Have Learnt | Having a solo exhibition after only a year in the photography world, with pictures taken on a borrowed camera was a surreal experience to me. What I learnt was that you do not need to have a camera of your own to become a photographer or the latest equipment and the fancy offices. The need to get started comes to you if the passion and the burning desire is there. If you truly are passionate about your dream and you keep pushing, the universe will provide. My burning desire for photography led me to a family friend who loaned me his camera to use to take the photos which later became my first solo exhibition.
Performing At My Peak | I stay grounded and only photograph things I find fascinating. I try to live a balanced life by paying attention to rest, family, education, work and fun.
Resources I Use To Stay Inspired | I am not really much of a reader but I sometimes read biographies or a photography book or magazine.  I listen to jazz, Congolese and Hip Hop music. I watch documentaries and I like to study the work and lives of the people I feel have made their mark on the world.
My Future Dreams And Ambitions | To go beyond photography and explore the film medium. By telling more and more stories that move people.
I Am Inspired By | Great minds inspire me such as Thomas Sankara, Cheick Anta Diop. As well as people who can do something great with very little, like the late Congolese photographer Kiripi Katembo.