Ricardo Bofill is a Spanish Architect, with a long list of accolades and worldly experience. In 1963 he gathered a multidisciplinary, multitalented group in order to confront the complexities of architectural practice, engineers, planners, sociologists, writers, movie-makers, that is known today as Taller de Arquitectura, which is now a leading international architecture, planning and interior design studio. Throughout all of his work, history has been a constant presence and is all uniquely personal. Many of his designs involve using different local cultures. No other architect has continuously worked with success in so many countries.
My Definition of Success | Success is often the result of good work…
I am Driven By | What drives me to go ahead is the desire to make a mark of my work for future generations.
My Highlights | For me, the most important thing in architecture is the organization of space, to master the space, give it structure and form.To be an architect means understanding space organised by man, decoding the spontaneous behaviour and movements of a population and, additionally, perceiving the needs for change that this population may unconsciously express. We have to locate these shortcomings in order to make our own contribution. My life has been and is dedicated to architecture and to transmit my knowledge to my sons.
The Difference Between Good and Great | I cannot see the difference.
A Key Talent | My talent is closely related to the willingness and ability to fight to convince my promoters of the seriousness and complexity of my ideas.
The Characteristics of Success | One the historical dimension of architecture that allows me to go through history vertically or horizontally, to move through time and space skipping chronological order; the architect can experience cities and buildings as works of the present, while his or her mind is free to project the formal future of society.
Principles I Live By | Honesty and courage.
Critical Skills I Develop | The priority of economic interests of developers on the quality of the work, against those I have always had to fight.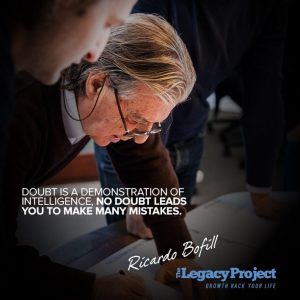 How I Use My Mind | I constantly try to relax and open my mind to face all kinds of difficulties. Yoga and swimming help me a lot.
Lessons I Have Learnt | My father, who was a builder, gave me valuable advices that I have not forgotten for the rest of my life.
Dealing with Doubt | Doubt is a demonstration of intelligence, no doubt leads you to make many mistakes. What matters is achieve concentration to choose the right decision at the right time.
Performing at My Peak | I don't always succeed.
Resources I Use To Stay Inspired | My team consisting of talented people in different areas, it is my main support. In my private life dedicate to reading, listening to music, often I visit my city to keep abreast of the changes that occur therein. I also like to travel and all those activities contribute to make me inspired, informed and growing.
My Future Dreams | I have many architectural projects to develop, I want to write another book and prepare for active aging according to my possibilities.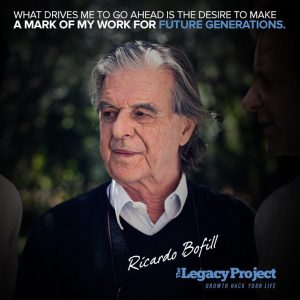 The Meaning of Life | Living life at every moment (Carpe Diem).
The Best Advice I Have Received | Be yourself.
Advice on Building Wealth | There is no practical advice for this matter, my goal has never been to be rich.
On Inspiring Others | With the utmost respect of their ideas and creating complicity between us.