Rehad Desai is a Cape Town born filmmaker and the director and creator of the critically acclaimed documentary Miners Shot Down, which won an International Emmy Award for best documentary. This production dealt with and uncovered the controversial topic of the Marikana Massacre in 2012. It was produced by Uhuru Productions (Pty) Ltd is a wholly black-owned film and television production house based in Johannesburg, South Africa. Founded and headed by Rehad Desai since its inception in 2003, the company has produced over twenty high-quality documentaries for local and international audiences. His previous documentary, Born into Struggle, screened internationally and garnered several awards. He directed his first feature length film, Dilemma in 2002 and has since conceived and produced over twenty documentary films, many of which he directed or co-directed.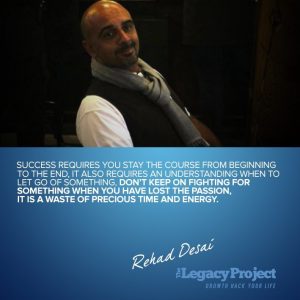 My Definition Of Success | Success must be internally defined. As a filmmaker I set out my rationale and intentions when I embark on a project, if feel I have fulfilled my intentions then I consider the work has being successful.  I used to define success as the film getting into film festivals and garnering acclaim, this is a wonderful feeling, but this is fleeting and is not enough to sustain the hard work and passion that is required from filmmakers. Now, it is much more about remaining consistent to your vision, staying connected to yourself and in turn connecting with the various audiences so they are able to use the films.
I Am Driven By | Being self motivated is critical for an independent filmmaker. My chosen profession is something that I absolutely cherish, I generally get to choose what I work on and what I want to say. Through the genre I communicate with many many people, from tens of thousands, to tens of millions. This is a huge privilege which carries with it huge responsibilities. So while I am in charge of the overall message, I also have an obligation to my audience to inform, educate and inspire in an entertaining manner.
My Highlights | The highlights of my life is the birth of my two children. Getting back together with the love of my life after a 13 year absence. In terms of my career, my latest film Miners Shot Down brought together my activist sensibilities and the experience of being a filmmaker for over 17 years, the two combined to produce what has been called devastating cinema. It thus has become a very important tool for social justice activists for those fighting for justice for the slain miners and the injured and arrested. The film has garned 19 awards some very important nominations, the latest being an International Emmy.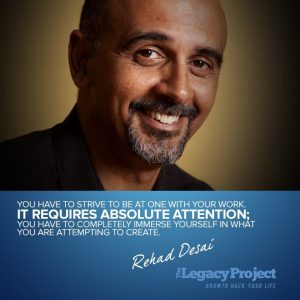 The Difference Between Good And Great | The difference in my view is the commitment. You have to strive to be at one with your work. It requires absolute attention; you have to completely immerse yourself in what you are attempting to create.
A Key Talent | Self discipline is critically important. This demands that you learn to nurture yourself, eat well, regular sleep, exercise, read books, have fun, but allowing the time to reflect on what is going on externally but also internally. A good relationship with yourself allows for good relationship with others. My one talent that is often praised is my ability to find people to work with in a collaborative fashion, to do this effectively you need to be a balanced human that is able to listen well to hear what is really being said.    So we need to remember you can only get out what you put in, in this instance what you put into yourself in the first instance. You are only to benefit from collaboration if your able to draw talent towards you that feel that they will be listened to firstly and secondly that they feel you are decent person and seriously committed to what you are doing. Commitment to what you are doing often involves lots of reading, writing and rewriting, watching and listening. Success requires you stay the course from beginning to the end, it also requires an understanding when to let go off something, don't  keep on fighting for something  when you have lost the passion, it is a waste of precious time and energy. Finishing to the best of your abilities can often take time, months, years as ideas don't arrive on tap. Being able to innovate means that you need to build an environment around yourself that is conducive to creativity. This is different for different people, but one thing is usually constant, make sure you surround yourself with people who are committed to their work and have good energy, people who are cheerful, people who have positive energy.
The Characteristics Of Success | The most important characteristic is self belief and determination this is what drives you to persevere in the face of serial failure, Winston Churchill once said 'Success consist of going from failure to failure and with loss of enthuasism'. You have to be able to quickly pick yourself up after rejection or failure. You have to learn how to be hard headed and hold onto your vision.
Principles I Live By | Self awareness  and  personal courage that allow us to confront our trauma and negative behavior patterns. In short someone who is together seeks wholeness in their life. Understanding when to exercise restraint, that we are ultimately accountable to one another and to act on the basis of good intentions.Learning how to  stay calm, concentrate and find focus leads to  more positivity.Willingness to trust even when we are uncertain means that we can keep hope alive and allows to keep  sufficient harmony so we can stay optimistic and enthusiastic. Generosity, Compassion  and understanding are equally important for society and ones own development.There are many other important values and principles each person must find their own.
Critical Skills I Develop | Empathy and psychological insight for myself, my relationships and my work.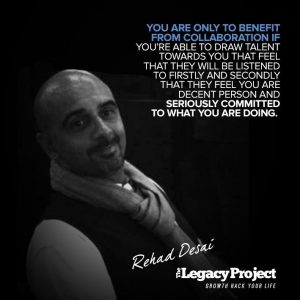 How I Use My Mind | I have come realise that an idea requires constant refinement. Finding the right idea can often take time, once that has happened, refining the idea into an attractive proposition that is easily communicated can take months sometimes years. There are no shortcuts in tis foundational phase of creation. Matching the idea with competent engaged execution is when talent can be seen.
Lessons I Have Learnt | Success is a process. It requires single mindedness, self belief and humility. In essence it is very simple, that is achieving what you have set out to do. This can require hundreds of small steps, don't allow yourself to get overwhelmed by the road ahead, just keep on going, step by step, stich by stich,  setting goals and keeping an eye n the horizon will help.
Useful Links |