Randy Conley is the Vice President of Client Services and Trust Practice Leader at The Ken Blanchard Companies. Randy's dual focus enables him to deliver authentic presentations and learning sessions that bring a real-world perspective on the importance and value of leaders developing relationships based on trust.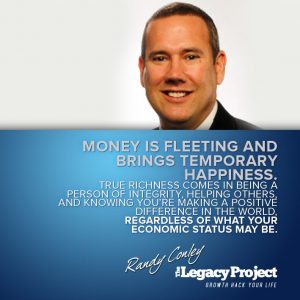 I Am Driven By | My personal mission statement is "To be a servant leader and a model of God's grace and truth." I try to live that out in all my interactions.
A Key Talent | One strength critical to my success is having good interpersonal skills. Being able to communicate effectively (both verbally and in writing) and develop positive relationships with others is critical to success in any environment. Most people want to work with people who are good team players, easy to deal with, and are good at what they do. That's how I've strived to operate in my career.
Principles I Live By | Trust, respect, integrity, and authenticity are among my most important values. I believe if you strive to do the right thing in all circumstances you'll be able to sleep with a sound conscience.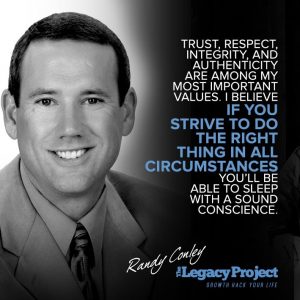 Advice on Building Wealth | Wealth is much more than money, and in fact, if becoming rich in a monetary sense is your primary goal, you'll probably end up dissatisfied in life. Money is fleeting and brings temporary happiness. True richness comes in being a person of integrity, helping others, and knowing you're making a positive difference in the world, regardless of what your economic status may be.
On Inspiring Others | I try to hire team members who have great character and values. Specific job skills are important, but those can be taught to a large extent. What is much harder to teach is integrity, honour, and respect. I've found that if you hire people with high morals and ethics who are motivated by the organization's mission, it's relatively easy to keep them engaged in their work and that of the organization.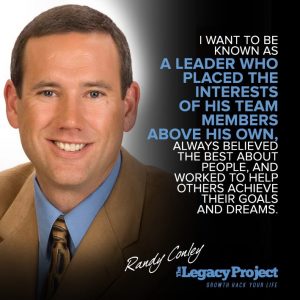 I Am Inspired By | There are a number of people. My mother's work ethic was a great inspiration to me. My mother was a single parent and we often hovered at or below the poverty line. She worked hard to provide for her family and that caused me to be grateful for what I have. My wife's grandfather was a great inspiration to me also. He was a man of integrity and values and he had a love for people. I try to model myself after him in many ways. There have also been many co-workers, bosses, and friends who have deeply influenced me.
The Legacy I Would Like To Leave | I try to be mindful of my activities and live my legacy. I want to be known as a leader who placed the interests of his team members above his own, always believed the best about people, and worked to help others achieve their goals and dreams.