*This is a compilation of quotes sourced from the internet.
Warren Edward Buffett was born on August 30, 1930 he is an American business magnate, investor and philanthropist. He was the most successful investor of the 20th century. Buffett is the chairman, CEO and largest shareholder of Berkshire Hathaway, and consistently ranked among the world's wealthiest people. He was ranked as the world's wealthiest person in 2008 and as the third wealthiest in 2011. In 2012 Time named Buffett one of the world's most influential people.
Definition Of Success | Rule No.1: Never lose money. Rule No.2: Never forget rule No.1.
I'm Driven By | The fact that It takes 20 years to build a reputation and five minutes to ruin it. If you think about that, you'll do things differently
The Highlights  | I would say the most satisfying thing actually is watching my three children each pick up on their own interests and work many more hours per week than most people that have jobs at trying to intelligently give away that money in fields that they particularly care about.
Principles I Live By | If you're in the luckiest one per cent of humanity, you owe it to the rest of humanity to think about the other 99 per cent
Lesson's I Have Learnt | Honesty is a very expensive gift, don't expect it from cheap people.
On Being Inspired | You do things when the opportunities come along. I've had periods in my life when I've had a bundle of ideas come along, and I've had long dry spells. If I get an idea next week, I'll do something. If not, I won't do a damn thing.
Advice On Wealth | Why not invest your assets in the companies you really like? As Mae West said, 'Too much of a good thing can be wonderful".
On Education | The smarter the journalists are, the better off society is. For to a degree, people read the press to inform themselves – and the better the teacher, the better the student body.
On Association | It's better to hang out with people better than you. Pick out associates whose behaviour is better than yours and you'll drift in that direction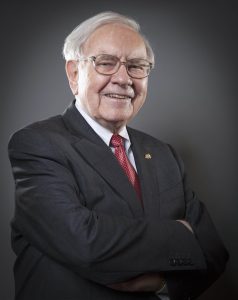 On Evaluating Risks | Risk comes from not knowing what you're doing.
On Enjoying Your Career | There comes a time when you ought to start doing what you want. Take a job that you love. You will jump out of bed in the morning. I think you are out of your mind if you keep taking jobs that you don't like because you think it will look good on your resume. Isn't that a little like saving up sex for your old age?