Usain Bolt is a Jamaican sprinter. Widely regarded as the fastest person ever, he is the first man to hold both the 100 meters and 200 meters world records since fully automatic time measurements became mandatory in 1977. Along with his teammates, he also set the world record in the 4×100 meters relay. He is the reigning Olympic champion in these three events, the first man to win six Olympic gold medals in sprinting, and an eight-time World champion. He was the first to achieve a "double double" by winning 100 m and 200 m titles at consecutive Olympics (2008 and 2012),and topped this through the first "double triple" (including 4×100 m relays).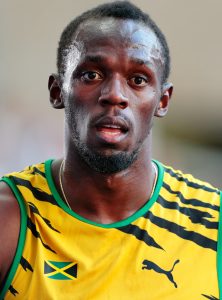 Principles I Live By | Manners is the key thing. Say, for instance, when you're growing up, you're walking down the street; you've got to tell everybody good morning. Everybody. You can't pass one person.
Lessons I've Learnt | I've learned over the years that if you start thinking about the race, it stresses you out a little bit. I just try to relax and think about video games, what I'm going to do after the race, what I'm going to do just to chill. Stuff like that to relax a little before the race.
On Being A Strong Finisher | There are better starters than me but I'm a strong finisher.
On Limits | I don't think limits.
On Being Lazy | Yeah, I am lazy. There's no doubt about that.
Be Yourself | When people see your personality come out, they feel so good, like they actually know who you are.
On Doubters | I work hard, and I do well, and I'm going to enjoy myself. I'm not going to let you restrict me.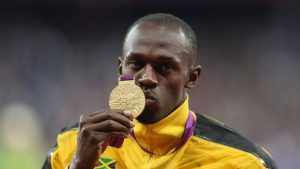 Believing in My Abilities | I know what I can do so it doesn't bother me what other people think or their opinion on the situation.
How I Got Introduced To Track And Field | I was playing cricket first and my cricket coach was the one that introduced me to track and field.
My Future Dreams And Ambitions | I really want to try soccer after I retire because I've watched football over the years and I think I could be a good contender.
On Living Outside of Jamaica | I can't really live outside Jamaica. I can be away, but only for a while.
The Most Difficult Thing To Do | Repeating is harder than anything else.
On Whether Being Fast Runs in the Family | My brother is really, really slow.
My Favorite Meal | I really don't have a favorite meal. I eat anything.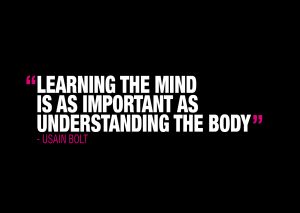 On Reading | I don't read a lot of books.
On Whether I'm A Phenomenon | I wouldn't say I'm a phenomenon, just a great athlete.
Performing At My Peak | Learning the mind is as important as understanding the body.