* This is a compilation of quotes sourced from the internet.
Ursula Burns is chairman and chief executive officer of Xerox Corporation. During her tenure, she has helped the company transform from a global leader in document technology to the world's most diversified business services company serving enterprises and governments of all sizes. Ursula joined Xerox as an intern in 1980 and during her career she has held leadership posts spanning corporate services, manufacturing and product development. She was named president in 2007, chief executive officer in 2009 and chairman in 2010.
On My Career | As I've progressed in my career, I've come to appreciate – and really value – the other attributes that define a company's success beyond the P&L: great leadership, long-term financial strength, ethical business practices, evolving business strategies, sound governance, powerful brands, values-based decision-making.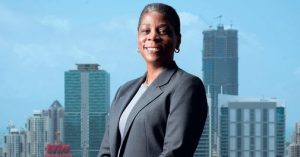 On Doing Something That You Love | Find something that you love to do, and find a place that you really like to do it in. I found something I loved to do. I'm a mechanical engineer by training, and I loved it. I still do. My son is a nuclear engineer at MIT, a junior, and I get the same vibe from him. Your work has to be compelling. You spend a lot of time doing it.
On Being Respectful | Crankiness is a human attribute that, when people walk in the door of Xerox, they remain human. The best way to get the best out of people is to not force them to be something other than they naturally are. Now what do they have to be? They have to be respectful. You can't be ridiculously disrespectful.
On The Value Of Paper | I don't think paper will go away. I do believe that the value of paper will change, and Xerox is working on changing that value. Consider a color page. Actual life is in color, but you keep reproducing it in black and white. You remove value. It's a bad thing to do.
On Working Hard | My mother was amazing. I guess, in our community, if you wanted to get by you had to work hard. So she cleaned offices. She did everything that you could imagine. We were really poor. But she would say, 'Where you are is not who you are.'
On Admiration | Admiration takes on a whole new level when you appreciate just how complex it is to run a modern business.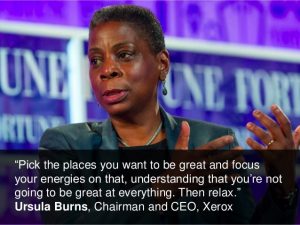 On My  Mother | My mother was pragmatic, focused and extremely, exceedingly practical, and she was the ultimate self-determining person.
I've had many mentors, but the one that has the most impact was my mother.
Fresh out of college, you tend to join a company because it's a job. But, you tend to stay because it becomes a career; you start to feel at home. In the beginning of your career, you're focused on you: 'I like this place because I'm doing rewarding work; they take good care of me; the people are nice; there's runway for me,' etc.
On Lessons Learnt | Impatience is a virtue.
On Changing Your Circumstances | The best way to change it is to do it. Right? And then after a while you become it, and it's easy.
On Xerox | Xerox is really good at managing documents, and we're definitely good at managing through a process.
A Key Talent | I went to an all-girls Catholic high school. The three things that they focused on were reading, writing, and arithmetic. My goodness, this is a novel idea in this modern society. I was really good at all three of these things. I was particularly good at math.
On Being Convincing | I realized I was more convincing to myself and to the people who were listening when I actually said what I thought, versus what I thought people wanted to hear me say.
On Kids Being Resilient | Kids are pretty resilient. You don't have to be at every volleyball game. We can't guilt ourselves.
On My Perspective | My perspective comes in part from being a New York black lady, in part from being an engineer. I know I'm smart and have opinions worth being heard.
On Being A Black Lady | I'm a black lady from the Lower East Side of New York. Not a lot intimidates me.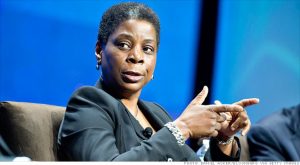 On Companies Outlive Their Founders | Unlike people, companies outlive their founders and their leaders.
On The Company's Reputation | I'm less concerned about whether being a good corporate citizen burnishes a company's reputation. That's just an added benefit. I believe it's a responsibility, and there is no negotiating on responsibilities.
On Taking Roles Earlier In My Career | Race and gender definitely came up, occasionally, in my life at work. But the bigger challenge that I had was age. I took roles earlier in my career than people expected, and so a lot of what I got was, 'Do you actually know enough to do this?'
On Opportunities | The world is full of opportunities – every day there's something new that you can do. For example, you could make dirty water potable. Why does anyone not have potable water? Because it's a problem that hasn't been solved yet, but it can be.