*This is a compilation of quotes sourced from the internet.
With over 50 books written and 350 million copies sold, Stephen King is undoubtedly the king of fear. Born in September 21st 1947 in Portland, Maine, King worked various odd jobs, but it was during his job as a teacher where he witnessed he brutal repercussions of bullying. Inspired, he wrote his debut novel Carrie, which earned him commercial success and critical acclaim. The novel was succeeded by a string of successful novels that were adapted into films that are as iconic as they are spine-chilling, earning him numerous awards for his outstanding contribution to literature.
My Definition of Success | A successful novel should interrupt the reader's life, make him or her miss appointments, skip meals, forget to walk the dog.
On The Support Of My Wife | Her support was a constant, one of the few good things I could take as a given. And whenever I see a first novel dedicated to a wife (or a husband), I smile and think, There's someone who knows.
My Experiences | I think there is a set of experiences that turn a potential writer into a working writer, and then there are places in your life where you start to recognize what you want to do.
The Difference Between Good And Great | It is impossible to make a competent writer out of a bad writer, and while it is equally impossible to make a great writer out of a good one, it is possible, with lots of hard work, dedication, and timely help, to make a good writer out of a merely competent one.
On A Little Talent | A little talent is a good thing to have if you want to be a writer. But the only real requirement is the ability to remember every scar.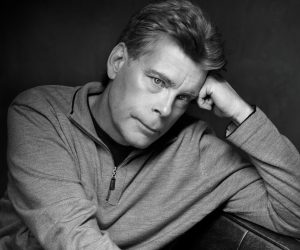 On That Emotional Pay-Off | For me, that emotional pay-off is what it's all about. I want you to laugh or cry when you read a story…or do both at the same time. I want your heart, in other words. If you want to learn something, go to school.
Principles I Live By | Talent is cheaper than table salt. What separates the talented individual from the successful one is a lot of hard work.
Critical Skills I Develop | You can learn only by doing.
How I Use My Mind | You see something, then it clicks with something else, and it will make a story. But you never know when it's going to happen.
When all else fails, give up and go to the library.
Lessons I Have Learnt | You learn best by reading a lot and writing a lot, and the most valuable lessons of all are the ones you teach yourself.
On Dealing With Doubt | Writing fiction, especially a long work of fiction can be difficult, lonely job; it's like crossing the Atlantic Ocean in a bathtub. There's plenty of opportunity for self-doubt.
You can, you should, and if you're brave enough to start, you will.
Performing At My Peak | If you don't have time to read, you don't have the time (or the tools) to write. Simple as that.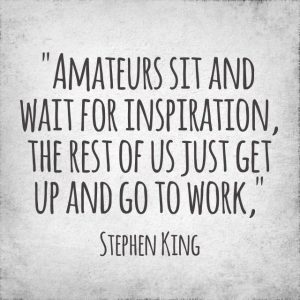 Resources I Use To Stay Inspired | Read a lot and write – a lot. There's no way around these two things that I'm aware of, no short cut.
My Future Dreams And Ambitions | I'm not overflowing with ideas like I was when I was 27, when they were all trying to escape my head at the same time. But I think I'm doing well if I've got one or two ideas ahead of me The thing is I feel really good now. For a long time, I didn't because of my accident in 1999. A guy hit me with his van and it was a slow recovery. But once I started to feel good again, I started wanting to write again.
The Meaning Of Life | Life isn't a support-system for art. It's the other way around.
The Best Advice I've Received | Having someone who believes in you makes a lot if difference. They don't have to make speeches. Just believing is usually enough.
On Amateurs | Amateurs sit and wait for inspiration, the rest of us just get up and go to work.
On Inspiring Others | Remember, Hope is a good thing, maybe the best of things, and no good thing ever dies.
Writing isn't about making money, getting famous, getting dates, getting laid, or making friends. In the end, it's about enriching the lives of those who will read your work, and enriching your own life, as well. It's about getting up, getting well, and getting over. Getting happy, okay? Getting happy.