*This is a compilation of quotes sourced from the internet.
Sheldon Adelson is an American business magnate, investor, and philanthropist. He is the chairman and chief executive officer of the Las Vegas Sands Corporation, which owns the Marina Bay Sands in Singapore and is the parent company of Venetian Macao Limited which operates The Venetian Resort Hotel Casino and the Sands Expo and Convention Center. He also owns the Israeli daily newspaper Israel HaYom. Adelson, a lifelong donor and philanthropist to a variety of causes, founded with his wife's initiative the Adelson Foundation. As of June 2015, Adelson was listed by Forbes as having a fortune of $28 billion, and as the 18th richest person in the world. Adelson is also a major contributor to Republican Party candidates, which has resulted in his gaining significant influence within the party.
On Bu
siness | I look at every business and ask, How long can this last? How can I identify the status quo and change it?
On Money | Money is fungible.
On Authenticity | Authenticity is so important to us.
On Lessons I Have Learnt | The world has to go on. Life goes on. You have to be willing to take risks. You have to be a visionary to see the opportunity.
On Family Interest | If I were to retire, I would keep my family's interest in the company the same and say, Don't sell.
On Succession Planning | Why do I need succession planning? I'm very alert, I'm very vibrant. I have no intention to retire.
On Creating A Vison | Create a vision. Identify it and go for it.
On My Humanitarian | I see this as my humanitarian legacy. We're prepared to pay billions.
On Being Wealthy | I never thought about becoming wealthy. It never crossed my mind. What really motivated me was to try to accomplish something.
On The Value Of Money | A billion dollars doesn't buy what it used to.
On Selling Good Property | The only purpose of making a good property is to sell it and make money out of it.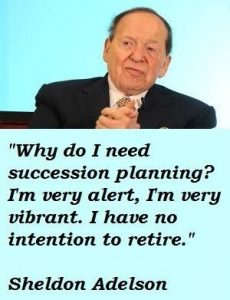 On Measuring Success | There're two ways of measuring success. One is the gross income. The other one is the EBITDA – the bottom line. We focus on the bottom line. He's focusing on the top line.
On Making Decisions | My mantra for success… Making the right decisions at the right time.
For me, any business decision means that I need to have a decent profit margin. Hospitality sector, in itself, is not inviting enough. I deal in big money. Without gambling, setting up any resort doesn't make sense… I deal in big money.