*This is a compilation of quotes sourced from the internet.
Sachin Tendulkar is a former Indian cricketer and captain, widely regarded to be one of the greatest cricketers of all time and by many as the greatest batsman of all time. He took up cricket at the age of eleven, made his Test debut on 15 November 1989 against Pakistan in Karachi at the age of sixteen, and went on to represent Mumbai domestically and India internationally for close to twenty-four years. He is the only player to have scored one hundred international centuries, the first batsman to score a double century in a One Day International, holds the record for most number of runs in both ODI and Test cricket, the only player to complete more than 30,000runs in international cricket.
On Losing | I hate losing and cricket being my first love, once I enter the ground it's a different zone altogether and that hunger for winning is always there
On Havin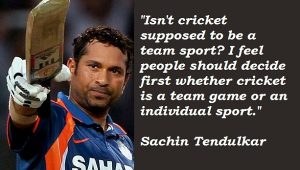 g A Dream | I always had a dream to play for India but I never let it put pressure on me.
On Being An Active Sportsman | Any active sportsman has to be very focused; you've got to be in the right frame of mind. If your energy is diverted in various directions, you do not achieve the results. I need to know when to switch on and switch off: and the rest of the things happen around that. Cricket is in the foreground, the rest is in the background
My Point Of View | My point of view is that when I am playing cricket I cannot think that this game is less or more important.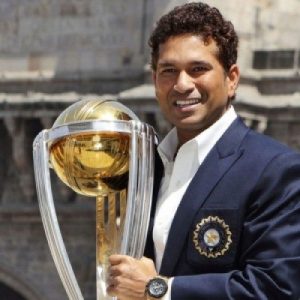 I Am Inspired By | New Zealand's Daniel Vettori is a very good bowler.
I grew up looking at my father as to how to behave. In watching him, I grasped so many things. His own temperament was of a calm person. He was very composed and I never saw anger in him. To me, that was fascinating.
My Highlights | As a kid I loved John McEnroe. They called me Mac because, while everyone else liked Borg, I was crazy about McEnroe. I tried wearing headbands and sweatbands, and whooping at people. It didn't quite work.
When I was 15, I started playing first-class cricket and always dreamt of being a Test cricketer, wanted to do something for the country, married in 1995, have 2 kids it's been great.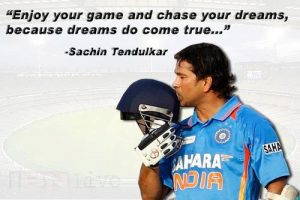 On The Subconscious Mind | At the start of my career, when I used to toss and turn at night, I was fighting that feeling and wanting to go to sleep. Now I know that's normal, so I'll just get up and watch TV or something. I know it's just my subconscious mind getting ready for a game.
On Living In The Moment | I am not thinking too far ahead, just want to take it one thing at a time.
On Believing | I believe every era has its significance and the same holds true for players and coaches.