*This is a compilation of quotes sourced from the internet.
Philip Hampson "Phil" Knight is an American business magnate. A native of Oregon, he is the co-founder of Nike, Inc., and previously served as the chairman and chief executive officer of Nike. In 2014, Forbes named Knight the 43rd richest person in the world, with an estimated net worth of US$22.3 billion.He is also the owner of the stop motion film production company Laika.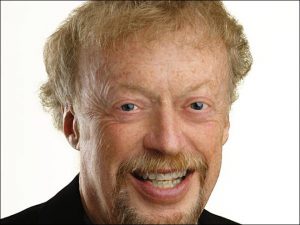 On The Key To Success | There is an immutable conflict at work in life and in business, a constant battle between peace and chaos. Neither can be mastered, but both can be influenced. How you go about that is the key to success.
On Understanding The Customer | You have to come up with what the consumer wants, and you need a vehicle to understand it.
On Sports | Sports is like rock 'n' roll. Both are dominant cultural forces, both speak an international language, and both are all about emotions.
On My Public Persona | I don't consider myself enigmatic, but I don't spend a lot of time thinking about my public persona.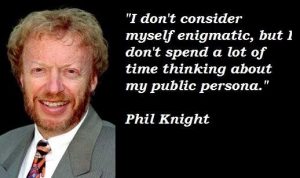 On Getting Nervous | I still get real nervous when I go in front of more than two people.
On Advertising | I'm Phil Knight, and I don't believe in advertising.
On Meeting Sports Stars | Meeting sports athletes that are the best in the world is a thrill to this day.
On The Trouble In America | The trouble in America is not that we are making too many mistakes, but that we are making too few.
On Running Shoes | American running shoes were still made by offshoots of the tire companies, cheap and terrible. They cost five bucks and gave you blood blisters.