Michael Jordan is an American former professional basketball player. He is also an entrepreneur, and principal owner and chairman of the Charlotte Hornets. Jordan played 15 seasons in the National Basketball Association (NBA) for the Chicago Bulls and Washington Wizards. His biography on the NBA website states: "By acclamation, Michael Jordan is the greatest basketball player of all time." Jordan was one of the most effectively marketed athletes of his generation and was considered instrumental in popularizing the NBA around the world in the 1980's and 1990's.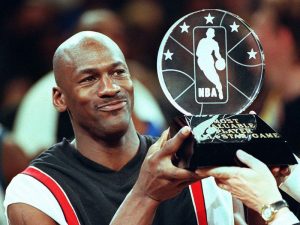 On Achieving Success | I've missed more than 9000 shots in my career. I've lost almost 300 games. 26 times, I've been trusted to take the game winning shot and missed. I've failed over and over and over again in my life. And that is why I succeed. To be successful you have to be selfish, or else you never achieve. And once you get to your highest level, then you have to be unselfish. Stay reachable. Stay in touch. Don't isolate.
On Teamwork | Talent wins games, but teamwork and intelligence wins championships.
On Failure | I can accept failure, everyone fails at something. But I can't accept not trying.
On Attitude | My attitude is that if you push me towards something that you think is a weakness, then I will turn that perceived weakness into a strength."
On Obstacles | Obstacles don't have to stop you. If you run into a wall, don't turn around and give up. Figure out how to climb it, go through it, or work around it.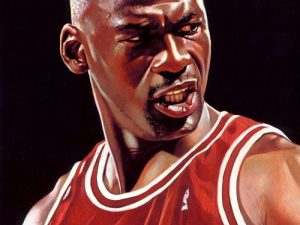 On Losing | I've never lost a game I just ran out of time.
On Quitting | If you quit ONCE it becomes a habit. Never quit!!!
On Negative Situations | Always turn a negative situation into a positive situation.
On Ability | Everybody has talent, but ability takes hard work.
On Hard Work | If you do the work you get rewarded. There are no shortcuts in life.
On Making Decisions | Once I made a decision, I never thought about it again.
On Fundamentals | The minute you get away from fundamentals – whether its proper technique, work ethic or mental preparation – the bottom can fall out of your game, your schoolwork, your job, whatever you're doing.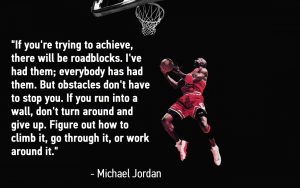 On The Basketball Court | The basketball court for me, during a game, is the most peaceful place I can imagine. On the basketball court, I worry about nothing. When I'm out there, no one can bother me…
On My Mother | My mother is my root, my foundation. She planted the seed that I base my life on, and that is the belief that the ability to achieve starts in your mind.