Maya Angelou, born Marguerite Annie Johnson on April 4th 1928 was a multi-talented and award-winning playwright, poet, dancer, actress, essayist, journalist and civil rights activist with a stunning career that spans over 50 years.  As a child, she was molested and raped by her mother's boyfriend who was later murdered by Angelou's uncles. Traumatized by the horrific experience, she became virtually mute for five years. It was during this period that she began to read and write.
Her most notable works are the Pulitzer Prize-nominated poetry collection Just Give Me a Cool Drink of Water 'Fore I Die and On the Pulse of Morning"—one of her most famous works—which she recited at President Bill Clinton's inauguration in 1993. She died on May 28th 2014 as a global icon and a paragon of triumph through adversity.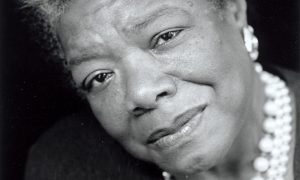 My Definition Of Success | Success is liking yourself, liking what you do, and liking how you do it.
On The Love Of Family | I sustain myself with the love of family. 
My Highlights | My greatest blessing has been the birth of my son. My next greatest blessing has been my ability to turn people into children of mine.
On Making Sacrifices | Whatever you want to do, if you want to be great at it, you have to love it and be able to make sacrifices for it.
On Courage  | Courage is the most important of all the virtues, because without courage you can't practice any other virtue consistently. You can practice any virtue erratically, but nothing consistently without courage.
Principles I Live By | It is a no-fail, incontrovertible reality: If you get, give. If you learn, teach.
On Forgiving | It's one of the greatest gifts you can give yourself, to forgive. Forgive everybody.
On Music | Music was my refuge. I could crawl into the space between the notes and curl my back to loneliness.
Lessons I Have Learnt | I've learned that making a 'living' is not the same thing as 'making a life'.
Dealing With Doubt | You may encounter many defeats, but you must not be defeated. In fact, it may be necessary to encounter the defeats, so you can know who you are, what you can rise from, how you can still come out of it. 
On Working Hard | I work very hard, and I play very hard. I'm grateful for life. And I live it – I believe life loves the liver of it. I live it.
On Praying | I know that when I pray, something wonderful happens. Not just to the person or persons for whom I'm praying, but also something wonderful happens to me. I'm grateful that I'm heard.

On My Mission In Life | My mission in life is not merely to survive, but to thrive; and to do so with some passion, some compassion, some humor, and some style
The Meaning Of Life | Life is pure adventure, and the sooner we realize that, the quicker we will be able to treat life as art
The Best Advice I've Received | My mother said I must always be intolerant of ignorance but understanding of illiteracy. That some people, unable to go to school, were more educated and more intelligent than college professors.
Advice On Building Wealth | You can only become truly accomplished at something you love. Don't make money your goal. Instead pursue the things you love doing and then do them so well that people can't take their eyes off of you.
On Inspiring Others | That's the biggest gift I can give anybody: Wake up, be aware of who you are, what you're doing and what you can do to prevent yourself from becoming ill.
I Am Inspired By | Shakespeare – I was very influenced – still am – by Shakespeare. I couldn't believe that a white man in the 16th century could so know my heart.
The Legacy I Would Like To Leave | I've still not written as well as I want to. I want to write so that the reader in Des Moines, Iowa, in Kowloon, China, in Cape Town, South Africa, can say, 'You know, that's the truth. I wasn't there, and I wasn't a six-foot black girl, but that's the truth.'