* This is a compilation of quotes sourced from the internet.
Ms. Mary T. Barra serves as the Chief Executive Officer of General Motors of Canada Limited since January 15, 2014.  She has held a number of engineering and staff positions, including plant manager, Detroit Hamtramck Assembly Plant; executive director of Competitive Operations Engineering; and general director of Internal Communications for GM North America. She began her career with General Motors in 1980 as a General Motors Institute (Kettering University) co-op student at the Pontiac Motor Division. She has been a Director of General Dynamics Corporation since March 15, 2011. Ms. Barra serves on the Kettering University Board of Trustees and Inforum Center for Leadership Board of Directors. She was named one of Automotive News' 100 Leading Women in the North American Auto Industry" in 2005, and again in 2010. In 2010, she also earned Kettering Alumni Association's Management Achievement Award for her specific contributions with positive and lasting effects in the field of management. She received a GM fellowship to the Stanford Graduate School of Business. Ms. Barra holds a Bachelor of Science degree in electrical engineering from General Motors Institute (Kettering University). She holds an MBA in Business Administration from Stanford Graduate School of Business in 1990.
                                                       
On
 My Definition Of Innovate | My definition of 'innovative' is providing value to the customer.
On Change | Not everything needs changing. Some things need protecting. And that can be just as important, challenging and rewarding as changing the world.
Do Every Job You're in Like You're Going To Do it For The Rest of Your Life | What I always say is, 'Do every job you're in like you're going to do it for the rest of your life, and demonstrate that ownership of it.
My Highlights | I started at General Motors at 18 years old as a co-op student at the General Motors Institute, which is now Kettering.
I Am Inspired By | My father was a die maker for 39 years, so I had a basic understanding of the automobile industry and what the manufacturing world was like, just from the opportunity to spend time with him – just talking, because he was a car buff.
On Cars | There's days when, after a long day of work you get into your car, and you're like, this is fun. I get to drive this home.


On Her Management Style | Collaborative. When we have to make tough decisions, giving direction and setting the strategies for the products of General Motors, there should be constructive tension. We should have vigorous debates … At the end of the day, when the decision has to be made, if we don't have complete unanimity, I have no qualms about making it. But I want that tension in a constructive way to make sure we evaluate things from every angle. I am pretty hands-on as well. I will call a chief engineer when I am driving a vehicle
On Management | If we win the hearts and minds of employees, we're going to have better business success.
On The Best Advice Ever Received | It probably goes back to my mother, and just the advice of hard work — and there's no substitute for it.
On The Importance Of Hard Work | My parents were both born and raised in the Depression. They instilled great values about integrity and the importance of hard work, and I've taken that with me to every job.
On Our Goal | Our goal is to make General Motors the most valuable automotive company. Clearly, that is having sustainable profitability and driving great returns for our shareholders.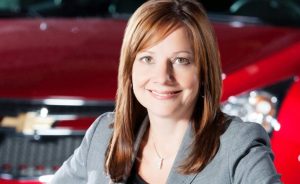 On Failure | As Charles Kettering said … 'The only time you don't fail is the last time you try something and it actually works
On Being A Woman In Leadership | I think there are more women in more senior roles than in 1980 when I started. But from my career perspective, I don't go into a room and take count. I want to be recognized for my contribution and for what I do. Yeah, there were probably times it was to my benefit, and there were probably times when it was not to my benefit. But that is true for everyone. There are always things that potentially impact how you are received. And I just don't focus on it. I don't focus on what you can't control.
On Mentorship | You get to a new position, you work really hard and you earn people who are willing to support you, because they see how hard you're working and they're willing to extend a bit of their personal capital to say, 'Yes, I know so-and-so is going to do a great job in this new role.