*This is a compilation of quotes sourced from the internet.
The first female prime minister of Britain, Margaret Thatcher was a controversial figurehead of conservative ideology during her time in office. Politician and former British Prime Minister Margaret Thatcher was born as Margaret Hilda Roberts on October 13, 1925, in Grantham, England. Nicknamed the "Iron Lady," Thatcher served as the prime minister of England from 1979 to 1990. The daughter of a local businessman, she was educated at a local grammar school, Grantham Girls' High School. Her family operated a grocery store and they all lived in an apartment above the store. In her early years, Thatcher was introduced to conservative politics by her father, who was a member of the town's council.
Raise Your Opinion | I love argument, I love debate. I don't expect anyone just to sit there and agree with me, that's not their job.
Disciplining yourself to do what you know is right and important, although difficult, is the high road to pride, self-esteem, and personal satisfaction.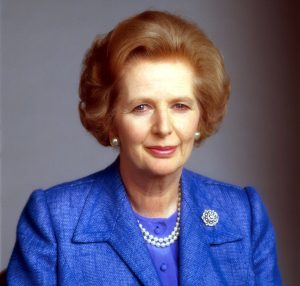 Hard Work Gets You To The Top | I do not know anyone who has got to the top without hard work. That is the recipe. It will not always get you to the top, but should get you pretty near.
On Perseverance | You may have to fight a battle more than once to win it.
Leading By Example | Don't follow the crowd, let the crowd follow you.
Setting Goals To Work Towards | Plan your work for today and every day, then work your plan.
Look at a day when you are supremely satisfied at the end. It's not a day when you lounge around doing nothing; it's a day you've had everything to do and you've done it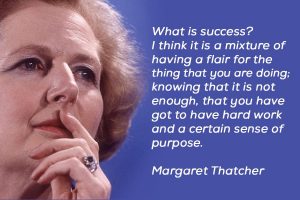 Definition Of Success | What is success? I think it is a mixture of having a flair for the thing that you are doing; knowing that it is not enough, that you have got to have hard work and a certain sense of purpose.
Patience Is Key | I'm extraordinarily patient provided I get my own way in the end.
Money Should Be Earned | Pennies do not come from heaven. They have to be earned.
It is not the creation of wealth that is wrong, but the love of money for its own sake.