*This is a compilation of quotes sourced from the internet.
Malala Yousafzai is a Pakistani school pupil and spokesperson for women's right to education. She has received numerous peace awards, and received the Nobel Peace Prize in 2014 along with Kailash Satyarthi, an Indian children's rights activist. The Pakistani army launched military operations to drive out the Taliban in 2009, and a documentary film helped Yousafzai became internationally famous as a chronicler of the chaos. She was nominated in 2011 for the International Children's Peace Prize, and that same year won Pakistan's first National Youth Peace Prize (now called the National Malala Peace Prize).She recovered and became an advocate for education for girls, Time magazine put her on its list of the world's most influential people. The next year she shared the 2014 Nobel Peace Prize with Kailash Satyarthi, an Indian activist and founder of the Global March against Child Labour.
The Legacy I Would Like To Leave | I don't want to be remembered as the girl who was shot. I want to be remembered as the girl who stood up.
I speak not for myself but for those without voice… those who have fought for their rights… their right to live in peace, their right to be treated with dignity, their right to equality of opportunity, their right to be educated.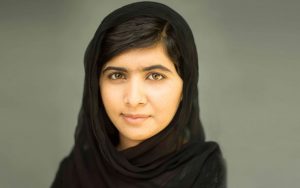 Count Your Blessings | We human beings don't realize how great God is. He has given us an extraordinary brain and a sensitive loving heart. He has blessed us with two lips to talk and express our feelings, two eyes which see a world of colours and beauty, two feet which walk on the road of life, two hands to work for us, and two ears to hear the words of love. As I found with my ear, no one knows how much power they have in their each and every organ until they lose one.
Knowledge is Power | Read thousands of books and I will power myself with knowledge. Pens and books are the weapons that defeat terrorism.
On The Lack Of Education | He believed that lack of education was the root of all of Pakistan's problems. Ignorance allowed politicians to fool people and bad administrators to be re-elected.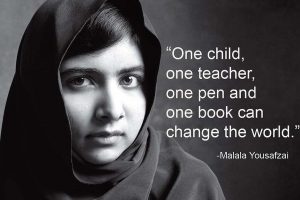 Raising Your Voice | I rise up my voice-not so that I can shout, but so those without a voice can be heard.
Education Can Change The World | One child, one teacher, one book and one pen can change the world.
All I want is an education, and I am afraid of no one.
Tomorrow's Reality | Let us make our future now.
On Discrimination | There should be no discrimination against languages people speak, skin color, or religion.
Respecting Each Other | We should all consider each other as human beings, and we should respect each other.
On Changing My Life | The terrorists thought they would change my aims and stop my ambitions, but nothing changed in my life except this: weakness, fear and hopelessness died. Strength, power and courage were born.
On Being Determined | I will get my education – if it is in home, school, or any place.
Right To Education | I don't know why people have divided the whole world into two groups, West and East. Education is neither Eastern nor Western. Education is education and it's the right of every human being.