*This is a compilation of quotes sourced from the internet.
Lawrence Joseph "Larry" Ellison is an American programmer, internet entrepreneur, businessman and philanthropist. He was the chief executive officer of the software company Oracle Corporation between its foundation in 1977 and 2014. In 2014, he was listed by Forbes as the third-wealthiest man in America and as the fifth-wealthiest person in the world, with a fortune of $56.2 billion.
                                                                         
O
n Life | Life's a journey. It's a journey about discovering limits. Great achievers are driven, not so much by the pursuit of success, but by the fear of failure.
On Following Your Dreams | I believe people have to follow their dreams – I did.
On Believing In What You Do | You have to believe in what you do in order to get what you want.
On Winning | I'm addicted to winning. The more you win, the more you want to win.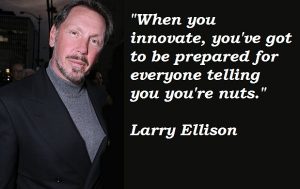 On Innovation | When you innovate, you've got to be prepared for everyone telling you you're nuts.
On Renaming The Internet | They don't call it the Internet anymore, they call it cloud computing. I'm no longer resisting the name. Call it what you want.
On Software | Be careful about virtual relationships with artificially intelligent pieces of software.
On Primary Goals | A corporation's primary goal is to make money. Government's primary role is to take a big chunk of that money and give it to others.
On Success | I have had all of the disadvantages required for success.
On Soc
ial Network | The social network is the paradigm of the modern service application.
On Lessons I Have Learnt | All you can do every day is, try to solve a problem and make your company better. You can't worry about it, you can't panic when you look at the stock market's decline. You get frozen like a deer in the headlights. All you can do is all you can do.