* This is a compilation of quotes sourced from the internet
Katsuaki Watanabe is senior advisor at Toyota Motor Corporation. He was president and CEO of the company before Akio Toyoda assumed those positions on June 23, 2009. Watanabe, who earned a degree in economics from Tokyo's Keio University, joined Toyota upon graduating from that university in 1964. He has gained experience in a broad range of activities at Toyota, primarily in corporate planning and administrative affairs. Watanabe became the general manager of the secretarial division in 1988 and moved to the Corporate Planning division as general manager in 1989.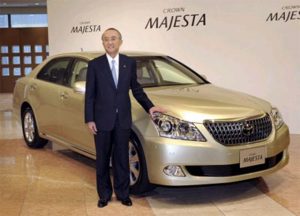 On Becoming Number One | We don't want to become number one in terms of volume. However, we'd like to be number one in terms of quality, technology and cost competitiveness
On Producing The World's Best Cars | It would only be a result of our efforts to produce the world's best cars
On My Goal | My goal is to reduce that difference to one-half the current levels, but I cannot say what the time frame for that would be
On Being Recognized As A Good Corporate Citizen | In order to be recognized as good corporate citizen in the US, we have been fulfilling our responsibility to society, to the public at large. The trade issues between the US and Japan are not bound to become heated as we saw in the past. But we think we must make efforts to fulfill the local activities. We will remain very vigilant watching social and economic move in US in that regard.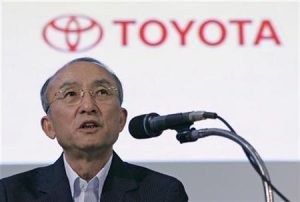 On Experiencing Different Cars | We want customers to be able to come, see, feel that these are different cars.
On Making RAV4 Bigger To Attract | We decided to make this RAV4 bigger to attract more families and those who prefer to buy minivans.
On Hybrids | The element of competition was introduced in hybrids and that I believe will lead to the widespread use of hybrids,