*This is a compilation of quotes sourced from the internet.
Jerry Seinfeld is an American comedian, actor, writer, and producer. He is best known for playing a semi-fictional version of himself in the sitcom Seinfeld (1989–1998), which he co-created and co-wrote with Larry David. For its final two seasons, they were also co-executive producers.
On The Beatles | The Beatles created something that never trailed off. What a gift that was to their fans. If you're into the Beatles, you loved them from beginning to end.
On Being A Husband | Being a good husband is like being a good stand-up comic – you need ten years before you can even call yourself a beginner.
On Motivation | You have to motivate yourself with challenges. That's how you know you're still alive.
On The Greatest Thing about Being A Comedian | The greatest thing about being a comedian is knowing other comedians. And you get to talk to them. It's the most fun.
On Tabloids | People who read the tabloids deserve to be lied to.
On Stand-Up | Stand-up is hard. Or to keep it at a certain level is hard: I have no writers but me.
On Being A Father | I love being a dad. I just love it.
On Marriage | Marriage is like a game of chess except the board is flowing water, the pieces are made of smoke and no move you make will have any effect on the outcome.
On Clean Jokes | For me, it's a purity thing about the joke itself. It's a test of a joke whether or not you do it completely clean and it works. If it does, then that's a legitimate item you have there. For me, it's nothing to do with finding those words offensive. It's just not what I'm in search of. Do it clean, and you are really earning that laugh.
On Women | I don't understand women at all. Like how a women can pour boiling hot wax onto their upper thigh, then rip the hair out by the root… and still be afraid of a spider.
On Amazon | I love Amazon 1-Click ordering. Because if it takes two clicks, I don't even want it anymore.
Best Business Advice | Keep your head up in failure, and your head down in success.
On Shower Radio's | Somebody just gave me a shower radio. Thanks a lot. Do you really want music in the shower? I guess there's no better place to dance than a slick surface next to a glass door.
On The Fear Of Death | According to most studies, people's number one fear is public speaking. Number two is death. Death is number two. Does that sound right? This means to the average person, if you go to a funeral, you're better off in the casket than doing the eulogy.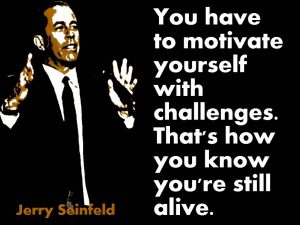 On Children | A two-year old is kind of like having a blender, but you don't have a top for it.
On The Meaning of Life | Life is truly a ride. We're all strapped in and no one can stop it. When the doctor slaps your behind, he's ripping your ticket and away you go. As you make each passage from youth to adulthood to maturity, sometimes you put your arms up and scream, sometimes you just hang on to that bar in front of you. But the ride is the thing. I think the most you can hope for at the end of life is that your hair's messed, you're out of breath, and you didn't throw up."