*This is a compilation of quotes sourced from the internet.
Henry Ford was an American industrialist, the founder of the Ford Motor Company, and sponsor of the development of the assembly line technique of mass production.
Although Ford did not invent the auto mobile or the assembly line, he developed and manufactured the first auto mobile that many middle-class Americans could afford. In doing so, Ford converted the automobile from an expensive curiosity into a practical conveyance that would profoundly impact the landscape of the twentieth century. His introduction of the Model T automobile revolutionized transportation and American industry. As owner of the Ford Motor Company, he became one of the richest and best-known people in the world. He is credited with "Fordism": mass production of inexpensive goods coupled with high wages for workers. Ford had a global vision, with consumerism as the key to peace. His intense commitment to systematically lowering costs resulted in many technical and business innovations, including a franchise system that put dealerships throughout most of North America and in major cities on six continents. Ford left most of his vast wealth to the Ford Foundation and arranged for his family to control the company permanently.
On Education | Anyone who stops learning is old, whether at twenty or eighty. Anyone who keeps learning stays young.
On Failure | Failure is simply an opportunity to begin again, this time more intelligently.
Find A Solution | Don't find fault, find a remedy; anybody can complain.
On Obstacles | Obstacles are those frightful things you see when you take your eyes off your goals.
On Thinking | Thinking is the hardest work there is, which is probably the reason so few engage in it.
On Solving Problems | Most people spend more time and energy going around problems than in trying to solve them.
On Achieving The Impossible | One of the greatest discoverie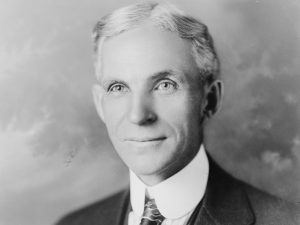 s a person makes, one of their great surprises, is to find they can do what they were afraid they couldn't do.
On Security | If money is your hope for independence, you will never have it. The only real security that a man can have in this world is a reserve of knowledge, experience and ability.
The Meaning Of Life | The whole secret of a successful life is to find out what is one's destiny to do, and then do it.
On Achieving Success | Success is 99% failure, if there is any one secret of success, it lies in the ability to get the other person's point of view and see things from that person's angle as well as from your own.
On Work | There is joy in work. There is no happiness except in the realization that we have accomplished something.
On Being A Leader | You don't have to hold a position in order to be a leader.
On Being An Idealist | An idealist is a person who helps other people to be prosperous.
On Being A Genius | Genius is seldom recognized for what it is: a great capacity for hard work.
On Money | Money is like an arm or leg- use it or lose it.
On Poverty | As long as we look to legislation to cure poverty or to abolish special privilege we are going to see poverty and special privilege grow.