Gabrielle Bonheur Chanel was a French fashion designer and founder of the Chanel brand. Along with Paul Poiret, Chanel was credited with liberating women from the constraints of the "corseted silhouette" and popularizing the acceptance of a sportive, casual chic as the feminine standard in the post-World War I era. A prolific fashion creator, Chanel's influence extended beyond couture clothing. Her design aesthetic was realized in jewelry, handbags, and fragrance. Her signature scent, Chanel No. 5, has become an iconic product. She is the only fashion designer listed on Time magazine's list of the 100 most influential people of the 20th century.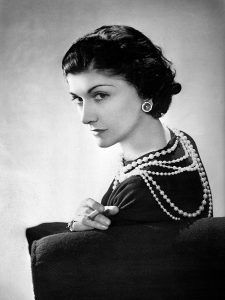 On The Most Courageous Act | The most courageous act is still to think for yourself. Aloud.
On What A Girl Should Be | A girl should be two things: classy and fabulous.
On Bachelorhood | It's probably not just by chance that I'm alone. It would be very hard for a man to live with me, unless he's terribly strong. And if he's stronger than I, I'm the one who can't live with him. … I'm neither smart nor stupid, but I don't think I'm a run-of-the-mill person. I've been in business without being a businesswoman; I've loved without being a woman made only for love. The two men I've loved, I think, will remember me, on earth or in heaven, because men always remember a woman who caused them concern and uneasiness. I've done my best, in regard to people and to life, without precepts, but with a taste for justice.
On Failure | Don't spend time beating on a wall, hoping to transform it into a door.
On Individuality | In order to be irreplaceable, one must always be different."
On The Key To Elegance | Simplicity is the keynote of all true elegance.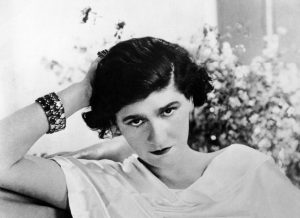 On Achieving Success  | Success is most often achieved by those who don't know that failure is inevitable."
Don't Worry About What Others Think | I don't care what you think about me. I don't think about you at all.
On Style |  Fashion changes, but style endures.
On Reaching Goals | If you were born without wings, do nothing to prevent them from growing.
On Perfume | A woman who doesn't wear perfume has no future.
On Beauty | You can be gorgeous at thirty, charming at forty, and irresistible for the rest of your life.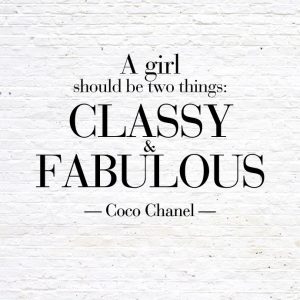 On Growing Older  | Nature gives you the face you have at twenty; it is up to you to merit the face you have at fifty.
On Fashion | Fashion is architecture: it is a matter of proportions.
On Solitude | There is nothing worse than solitude. Solitude can help a man realize himself; but it destroys a woman.