This is a compilation of quotes sourced from the internet.
Carlos Slim Helú born January 28, 1940) is a Mexican business magnate, investor, and philanthropist. From 2010 to 2013, Slim was ranked as the richest person in the world. Known as the "Warren Buffett of Mexico, Slim oversees a vast business empire that is influential in every sector of the Mexican economy and accounts for 40% of the listings on the Mexican Stock Exchange. He derived his fortune from his extensive holdings in a considerable number of Mexican companies through his conglomerate, Grupo Carso. The conglomerate comprises a diverse portfolio of businesses from a wide array of industries that include telecommunications, education, health care, industrial manufacturing, food and beverages, real estate, airlines, media, mining, oil, hospitality, entertainment, technology, retail, sports and financial services. Currently, Slim is the chairman and chief executive of telecommunications companies Telmex and América Móvil. América Móvil, which was Latin America's largest mobile-phone carrier in 2010, accounted for around $49 billion of Slim's wealth by the end of that year. His net worth as of March 2015 is estimated at $71.2 billion.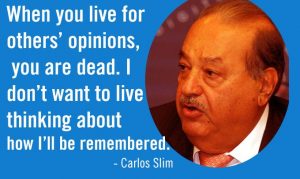 On Giving A Better Country To Your Children | It's important to give a better country to your children, but it is more important to give better children to your country.
On Business | If you are in business, you are not enjoying. You are working.
On Art And Culture | My parents weren't artistic, but I was always surrounded by beautiful things. And Mexico is a country which has experienced thousands of years of art and culture.
On Baseball | I love baseball. And American Football, too. But not rugby.
On Technology And The Internet | You cannot make thousands of universities or hundreds of thousands of professors, but with technology and the Internet you can have great courses and make a digital university.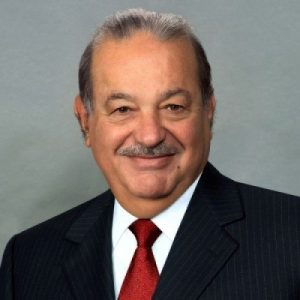 On Privileges | I think that anything that has privileges have responsibility and all people that is clear about their responsibility has compromise.
Lesson I have Learnt | The biggest things in life are not materials.
On My Love For History | In high school, I loved history. I also loved cosmography, algebra. Mexico is so rich in culture and history, and I have always enjoyed that.