Bob Geldof is an Irish singer-songwriter, author, occasional actor and political activist. He rose to prominence as the lead singer of the Irish rock band The Boomtown Rats in the late 1970s and early 1980s alongside the punk rock movement. The band had hits with his compositions "Rat Trap" and "I Don't Like Mondays". He co-wrote "Do They Know It's Christmas?", one of the best-selling singles of all time, and starred in Pink Floyd's 1982 film Pink Floyd – The Wall as "Pink".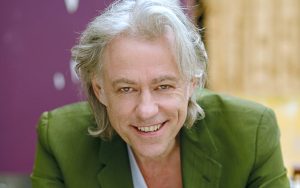 On Divorce | Divorce is a by-product of the fact that maybe the nuclear unit is gone.
On Politician's | You can't trust politicians. It doesn't matter who makes a political speech. It's all lies – and it applies to any rock star who wants to make a political speech as well.
On Music, Business and Politics | Music is what I must do, business is what I need to do and politics is what I have to do.
On Music | Music can't change the world.
My Passion | Music is still above all else the thing that does it for me.
The Thing  I Love Most About Music | Playing live if the thing I love doing best.
On The Meaning Of Life | The meaning of life is life itself.
On Being The Best You Can Be | You may as well push yourself right to the very extremes of your capabilities.
On My Songs | Those songs are about getting out; they're not about getting out of family. It wasn't about how family life was curtailing because I didn't know family life.
On Africa | Not the Dark Continent. This is the Luminous Continent.
On The Worldwide Language | The lingua franca of the planet is not English, it's pop music.
On Daughter's | The girls are a complete joy and I love their passion. They argue with me like mad and I love that too.
My Reason's For  Joining A Rock Band | To get rich, to get famous and to get laid.
On Gender Equality | And whereas women had to fight to find their way into the workforce, men are now fighting to reclaim their place in the family structure.