*This is a compilation of quotes sourced from the internet.
Barack Hussein Obama was born on August 4, 1961, in Honolulu, Hawaii. His mother, Ann Dunham, grew up in Wichita, Kansas, where her father worked on oil rigs during the Great Depression. After the Japanese attack on Pearl Harbor, Dunham's father, Stanley, enlisted in the service and marched across Europe in Patton's army. Dunham's mother, Madelyn, went to work on a bomber assembly line. After the war, the couple studied on the G.I. Bill, bought a house through the Federal Housing Program and, after several moves, landed in Hawaii.Barack Obama's father, Barack Obama Sr., was born of Luo ethnicity in Nyanza Province, Kenya. Obama Sr. grew up herding goats in Africa, eventually earning a scholarship that allowed him to leave Kenya and pursue his dreams of college in Hawaii.
Chang
e Starts With You | One voice can change a room, and if one voice can change a room, then it can change a city, and if it can change a city, it can change a state, and if it change a state, it can change a nation, and if it can change a nation, it can change the world. Your voice can change the world.
Change will not come if we wait for some other person, or if we wait for some other time. We are the ones we've been waiting for. We are the change that we seek.
The best way to not feel hopeless is to get up and do something. Don't wait for good things to happen to you. If you go out and make some good things happen, you will fill the world with hope, you will fill yourself with hope
A change is brought about because ordinary people do extraordinary things.
The face of impossible odds, people who love this country can change it.
I Am Inspired By | I'm inspired by the people I meet in my travels, hearing their stories, seeing the hardships they overcome, their fundamental optimism and decency. I'm inspired by the love people have for their children. And I'm inspired by my own children, how full they make my heart. They make me want to work to make the world a little bit better. And they make me want to be a better man.
Stand For What You Believe In | I believe in evolution, scientific inquiry, and global warming; I believe in free speech, whether politically correct or politically incorrect, and I am suspicious of using government to impose anybody's religious beliefs -including my own- on nonbelievers.
How to Persevere in Life | Making your mark on the
rk on the
world is hard. If it were easy, everybody would do it. But it's not. It takes patience, it takes commitment, and it comes with plenty of failure along the way. The real test is not whether you avoid this failure, because you won't. It's whether you let it harden or shame you into inaction, or whether you learn from it; whether you choose to persevere.
Rise Above Your Circumstance | Where you are right now doesn't have to determine where you'll end up.
Respecting Those Around You | We may not be able to stop evil in the world, but how we treat one another is entirely up to us.
Communication Is Key | It's important to make sure that we're talking with each other in a way that heals, not in a way that wounds.
Life Lesson | If you're walking down the right path and you willing to keep walking eventually you'll make progress.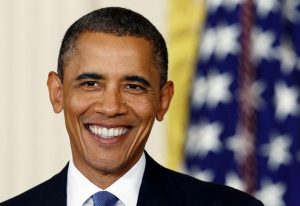 If you work hard and meet your responsibilities you can get ahead, no matter where you come from, what you look like, or who you love.
Always Finish What You Start | If you run you stand a chance of losing, but if you don't run you've already lost.
First Impressions Last | What comes of this moment will be determined not by whether we can sit together tonight, but whether we can work together tomorrow