Prof Saurabh Sinha cannot but leave an impression on those who encounter him. As one of South Africa's great electronic engineers he has obtained his B. Eng, M. Eng and Ph.D. degrees in Electronic Engineering from the University of Pretoria (UP) having achieved both his B. Eng and M. Eng with distinction.
As a published researcher, Prof Sinha has authored or co-authored over 100 publications in peer-reviewed journals, books and at international conferences. His knowledge is further accredited as the managing editor of the South African Institute of Electrical Engineers (SAIEE) Africa Research Journal. Prof Sinha served UP for over a decade; his last service being as Director of the Carl and Emily Fuchs Institute for Microelectronics, Department of Electrical, Electronic and Computer Engineering. On 1 October 2013 Prof Sinha was appointed as Executive Dean of the Faculty of Engineering and the Built Environment (FEBE) at the University of Johannesburg (UJ). Prof Saurabh Sinha was also elected and served as the 2014-2015 Vice-President, IEEE – Educational Activities & an IEEE Board of Director.
Combine this with a disposition to wire positive growth in South Africa, Prof Sinha exemplifies the type of South African that will lead this country towards sure footed and positive development. As a teacher, researcher and publisher, he applies his 'macro' understanding for the benefit of us South Africans as captured for us in his profile here:
About my Life Mission | Research, Innovation and Internationalisation – multi- and cross-disciplinary research and innovation benefiting society-at-large
My Definition Of Success | Effective glocalisation (vs globalisation)
I Am Driven By | Engineering and Technology
My Highlights |
(1) Serving as an Executive Dean: Faculty of Engineering and the Built Environment, University of Johannesburg (FEBE, UJ)
(2) Serving the IEEE as Vice-President and Board of Director (2014-2015)
(3) Authoring or co-authoring of over 100 articles; most recently co-authoring of three (3) books – published by Springer Nature in 2016; at least one text takes microsensing for sustainable cities.
The Magic in me Originates From | Team work – diversity (geographical, technical, cultural, etc)
The Difference Between Good And Great | Quantity vs Quality
A Key Talent | Thinking "outside the box"
Principles, Values and Ideologies | Live By I "Scholarship, Character and Attitude" (values of IEEE-Eta Kappa Nu (IEEE-HKN), the honour society of IEEE)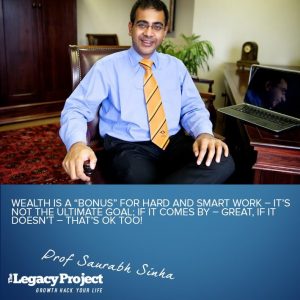 How I Use My Mind | Imagination – thinking sustainable solutions (vs problems!)
Lessons I Have Learnt | Life is about choices – we select to be positive and constructive (vs being negative!)
Dealing With Doubt | Alternative thinking – one's waste is another person's treasure – sustainable development thinking.
Resources I Use To Stay Inspired | Reading online – Nelson Mandela, Dr Abdul Kalam and others.
My Future Dreams And Ambitions | Diminishing the poverty gap through research, innovations and sustainable development.
The Best Advice I've Received | Recognise the strength in others – lead vs manage. Empower.
Advice On Building Wealth | Wealth is a "bonus" for hard and smart work – it's not the ultimate goal; if it comes by – great, if it doesn't – that's OK too!
I Am Inspired By | What we can achieve by working positively and together.