Professor Quarraisha Abdool Karim is a South African epidemiologist who was awarded South Africa's highest honor, the Order of Mapungubwe (Bronze). She is a member of the Academy of Science of South Africa, and African Academy of Sciences. At the XVIII International AIDS Conference, 2010 the results of their CAPRISA 004 study led to a standing ovation, an uncommon occurrence at a scientific meeting. She is a mother and is married to Salim 'Slim' Abdool Karim with whom she has worked with in research. On October 26, 2014, Karim was named winner of the 2014 TWAS-Lenovo Science Prize. She is the first woman to have received the $100,000 prize.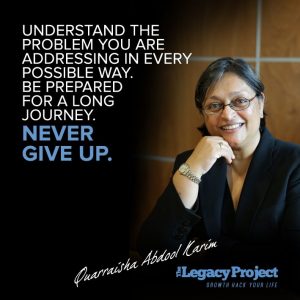 My Definition Of Success | Accomplishments that have an impact on communities is a measure of success. In terms of my research success is the availability of women initiated HIV prevention technologies. My definition has not changed over the years as this goal has yet to be realized despite over two decades of effort.
I Am Driven By | The daily reminder from my interactions of young women in Africa and their high HIV infection rates is an impetus to keep my focus.
My Highlights | A personal highlight has been the growth of my three children into confident adults with a clear focus on what they want to do with their lives – each very different but maintaining strong bonds with each other. A career highlight has to be the CAPRISA 004 trial that demonstrated for the first time that an anti-retroviral based microbicide viz tenofovir gel can prevent HIV and genital herpes in women.
The Difference Between Good And Great | Good people get a task done and great people are passionate about what they do, are focused, do what they do better every day, take risks, are innovative, no there are no quick fixes or easy solutions, and never give up.
A Key Talent | Focus. Understand the problem you are addressing in every possible way.  Be prepared for a long journey. Never give up. The first population based HIV survey I undertook in 1990 in rural South Africa to understand the evolving HIV epidemic in South Africa highlighted that while the epidemic was at an early stage women already had three times more infection compared to males and acquired HIV infection 5-7 years earlier compared to their male peers. This led me to undertake a series of socio-epidemiological studies to understand why and these studies highlighted the limitations of the available HIV prevention interventions for women and a major gap and need for women initiated HIV prevention technologies.  Since 1994, my research efforts have focused on finding a safe and efficacious HIV prevention technology for women. The CAPRISA 004 trial findings in 2010 held some promise but the FACTS 001 results was unable to confirm these findings. The team has now moved on to testing new products that are less user dependent.
The Characteristics Of Success | Tenacity, Resilience, Discipline, Fortitude
Principles I Live By | Integrity and humility – there is so much we don't know and have to still learn that we cannot afford to be complacent.
Critical Skills I Develop | A deep understanding of human behaviour and relationships and how this is influenced by context, gender dynamics and poverty. The role of science in transforming lives. Communicating effectively with diverse audiences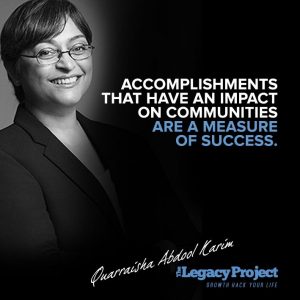 How I Use My Mind | Focus, discipline, systematic and structured thinking, valuing constructive criticism, taking personal responsibility of actions and constantly reviewing what is working or not and changing if indicated.
Lessons I Have Learnt | Life is a journey with ups and downs and times when things go according to plan and others where it does not. I have learnt more from failures (and they have been many) and these have informed the few successes. Never make the same mistake twice. Always strive for the best and excellence in everything.
Dealing With Doubt | I am generally an optimistic person and take the "glass is half-full rather than half-empty view on most things. I see opportunities in challenges rather than obstacles.
Performing At My Peak | By maintaining a focus on excellence.
Resources I Use To Stay Inspired | The communities I work in, the staff and collaborators I work with, scientific journals, biographical books, documentary movies.
My Future Dreams And Ambitions | A world free of AIDS and a day when women have an array of safe and efficacious HIV prevention technologies.
The Meaning Of Life | To use knowledge to enhance the lives of people.
The Best Advice I've Received | Believe in yourself and never give up.
Advice On Building Wealth | True wealth is not about money it is about what you do with the talents you have and each of us has a special gift to ensure we leave the world a better place than when we arrived.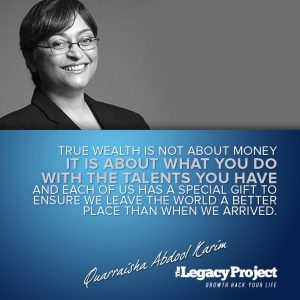 On Inspiring Others | Share a common vision and through mutual respect.
I Am Inspired By | The communities I undertake my research in – urban and rural KwaZulu-Natal, South Africa; My mentors and role models: Zena Stein, Jerry Coovadia, the late Patricia Berjak, my husband – Salim Abdool Karim and Zuleika Mayat.
The Legacy I Would Like To Leave | That young women are important in society and deserving of the right to a full and healthy life.