Petra Škarja is a young entrepreneur with inspirational life story, where motto JUST DO IT takes an important part. She is an author of two best sellers in Slovenia and an organizer of the biggest event for women entrepreneur in Slovenia. She says she is just a girl who decided to make her own way in this life, who loves nature, especially mountains, and a girl who is obsessed with traveling and discovering everything that is unique and new for her. The book The 'American Millionaires Have Spoken' became a best seller in Slovenia in just a month. How come? Because of the inspiring touching life story of an author, Petra Škarja. When she was 25, her life felt apart. Yes, she could feel sorry for herself as many people would do at that stage, but not her. She stood up and the next day started to make her new life. She wrote that book. In just a few months the book was translated into Chinese, English, Russian and Croatian. 
My Definition Of Success | Level of success for me is mostly "measured" by inner peace and true happiness (in deeper meaning) – of course to achieve that you firstly need money, time, people … And I'm trying to be true to myself in every moment of my life (it sounds easy, but it's not so much).
And yes, what success means to me is changing all the time … First, when I was starting my business, success for me was only how much money I earn. Then it was how many people know me as an author and lecturer, how much media world knows me. Then it was how much freedom I have (financial, time, not being influenced by media, government ….). Later it was how I am changing lives of others and society … Now I'm focusing in "being the change that I wish to see in the world" (Gandhi).
I Am Driven By | I question myself the same question many times … And I haven't found the real answer yet I think that when you find your talents and you do, what you really LOVE to do, you don't ask yourself where to get motivation for work anymore …
My Highlights | Me and my team were a national champion in volleyball – I'm really proud on this  And I ran half-marathon without stopping (after a car accident doctors said that this won't be possible – but it was! ). In career – selling book rights for the book The American Millionaires Have Spoken in China and lecturing there in a really big and special event.
The Difference Between Good And Great | They both need certain qualities … But people who are GREAT at what they do, they LOVE their work … People who are GOOD at what they do they either don't like their work so much or they just like it. But not LOVE it.
A Key Talent | If I should highlight ONE talent or strength, that would be … I stopped listening to others what is the RIGHT way how to live my life … I could say that the strength would be – Following my inner ideas, dreams, wishes, ideas … People in general we follow to much OTHER's (parents, friends, media, movies, government …) advices and ideas and don't trust ourselves.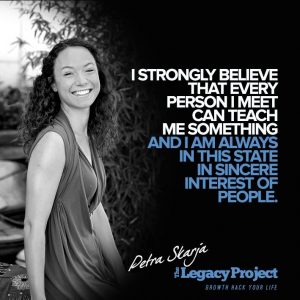 Yes, we should listen to others and learn from every single person that we meet in ourlives. But nobody knows you the way you know yourself. And there is nobody else in this world than you, who deep in yourself knows what is the best for you – what are your true talents, ideas, dreams, wishes. Don't just follow society what they are telling you what is good and what is bad for you; what to do and what not to do … Every person is UNIQUE – so please, stay UNIQUE … Trust yourself and your inner voice … It is there, we all have it. I believe that is the only way how to achieve your personal success, your personal happiness and how to change the world.
Advice to others? It Is hard to give such advices, because every person is unique and what helps me, maybe won't help others. So instead of saying "I give advice" I would like to say I can tell what helped me over these years so far.
Be in nature a lot. Be a loner – that gives you time to think and to observe yourself, your thoughts and feelings – that is the only way you can get to know yourself.
Read, write – two ways that helps you to really get to know yourself.
Find your talents and follow them.
Find your way of meditation and practice it (my meditation is being alone a whole day in mountains).
Travel!
Before you go to bed think of the things you are grateful for. Every morning start a day with a positive thought.
I stopped watching TV and news. Yes, I love to watch a movie and I like to know what is happening in the world – but I pick the information I want to get (people in general just passively wait what information will get and they have no control over it.)
In the first place I never believe what I hear or read – I always question myself about everything around me, about every information and only then I try to make a belief in which I truly believe.
I strongly believe that every person I meet can teach me something and I am always in this state in sincere interest of people.
Don't hate money. Money is good. Money can help you a lot. If you have negative feelings and beliefs about money, that will definitely limiting you. Just don't let that money controls you.
Lessons I Have Learnt | Money is very important but it definitely isn't the main reason why to work and live. Don't search the money success, search for happiness and wellbeing yourself and others – money comes if you do good.
If you don't give up, you cannot fail.
Don't follow the system. It could bring you financial success, but not happiness. Make your own way.
Jin jang, balance is a natural law we cannot overcome. No matter what you do, who you are, there will always be approximately 50% of people supporting you and 50% people not supporting you. So don't focus on how to make all people like you, rather use this energy to focus of this 50% how to positively influence on them the most.
It's very important what you eat and drink.
Don't judge others. Never. You were in will never be in theirs shoes.
We don't have just MIND to work with. We also have HEART. The importance of the two is the same.
Risk, but don't gamble.
Trust, but don't be blind.
Principles I Live By | Be good, do good and good is what you will get. Respect nature and every single creature on this earth. Don't compete, rather cooperate with people.
Dealing With Doubt | Well, I would like to get this answer, advise also I don't know exactly … There are many times when I doubt myself, when I feel fear or negativity … But I don't force myself to get rid of it – I believe it is a part of nature. We have joy and sorrow, happiness and sadness, success and failures, light and darkness… Without negative emotions we wouldn't appreciate positive ones.
I just try NOT TO STOP working, leaving, dreaming when this happens. Sometimes is hard, of course. There was one time when I really didn't know why still live for – in a day I've lost everything what I have build for many years (not just materialistic stuff, but emotional ones as well). I couldn't think positive, I couldn't find solutions … What was keeping me up was a belief that no matter what happens, I just can't allow myself to stop and start feeling sorry for myself and whining to others. If you don't give up, you cannot fail, was the quote that kept me in motion.
Performing At My Peak | There is no insurance on that … My focus is on everything I do, I try to do it my best and with only positive attentions. But there is no insurance on what kind of results that will bring in my future life …
Resources I Use To Stay Inspired | I love books. And I love people – I try to learn something from everyone I meet. I always look for positive in people – many times I am totally surprise what amazing talents, ideas and personalities people have.
My Future Dreams And Ambitions | If, there are so many of them … I would definitely like to write a world famous book, an interesting story with personal touch in which people might find very important lessons which in a way will change the world … A book that is not just best seller in one period but a book that become a legendary in a way … As for example Alchemist (Paulo Coelho) or Think and grow rich (Napoleon Hill). I would like to put a positive influence to people all over the world through books (and lectures of course). I truly believe that we can make a long-term change in the world not by giving food to hungry and clothes to poor but only by changing mindset of first ourselves and then others …
The Meaning Of Life | To really LIVE it, not just "survive it". One part of it is to use your given talents to make some changes in this life (it doesn't need to be worldwide change to be important).
The Best Advice I've Received | It's your responsibility what you give to others (advices, ideas, energy, products…). How they will react to it it is not your responsibility but theirs decision and right. Respect that.
Advice On Building Wealth | JUST DO IT. But with your heart that means on a ground of positive values. And never give up. If there is a dream inside you, there is a way and ability to achieve it.
I Am Inspired By | My best friend …
The Legacy I Would Like To Leave | I believe it will reveal itself if I stay true to myself and keep walking and walking on my unique path