Patrick Lambie is a professional rugby player, born and raised in Durban, KwaZulu Natal. He has recently returned from the Rugby World Cup in England, where South Africa reached the Semi-Finals. He has always excelled on the sports field, his professional career beginning at the Sharks Academy in 2009 and continues to play for them today, he was a asset to The Sharks in both of their Currie Cup victories.  Lambie then went on to receive the SA Rugby Young Player of the Year in 2011 and SA Rugby Player of the Year nominee in 2011 and 2012. He was selected for the Bok team at a young age and went from strength to strength – earning his place in the team and gaining a great deal of invaluable experience. At 25 years old, Lambie recently received his 50th cap during the World Cup against Argentina. A man of great integrity and a heart of gold, dedicates his time to working at Liv Village, a residential care for orphaned and vulnerable children, based in Durban.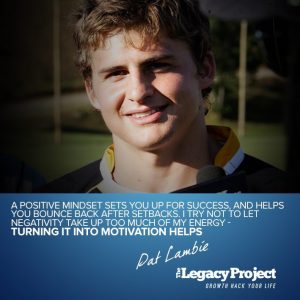 My Definion of Success | At first, success to me was gaining other people's approval. I used to be concerned about what other people said or thought. Now, success to me means knowing that I have given my absolute best in whatever I am doing. Other people's opinions don't matter all that much anymore. It is how I honestly feel about things in my heart.
I am Driven By | I guess I am driven by wanting to make the most of the talents that I have been blessed with, to achieve the goals and dreams that have been placed on my heart. Having said that, I believe that there is more to life than  personal gain or accomplishment.
My Highlights | In my personal life, I am proud to be married to my wife, Kate. We have been together (dating/married) for almost 8 years now. In my professional life, I am proud to have played 50 tests for the Springboks.
The Difference Between Good and Great | I think consistency over a long period of time makes someone who is good at what they do, great. Maybe the difference between someone who is good and someone who is great is how hard they are willing to work to stay at the top of their game all the time.
My Key Talents | I like to think that I have a high work ethic. For as long as I can remember, I have never backed away from putting in the hard yards. I have always had big dreams and ambitions. I realised very early that reaching those dreams and ambitions required lots of extra time and effort.
The Characteristics Of Success | Maybe to sum this one up would be to say that I have always tried to be as professional as possible, as often as possible. This includes skills, conditioning, diet, sleep etc. I have tried to enjoy myself as much as possible along the way as well. I believe that that might be the key ingredient!
Principles I Live By | Treating people with respect, humility, kindness, generosity and honesty.
How I Use My Mind |The mind plays a huge role in your performances. A positive mindset sets you up for success. I like to 'day dream' or visualise positive contributions and outcomes. And obviously when things are tough and not going well, a strong, well trained mind often gets you through.
Lessons I Have Learnt | I have learnt to always keep perspective. Sometimes things can be going so well, or so bad, that you lose sight of what is important in life. This is something that I want to keep getting better at.
Dealing with Doubt | As mentioned earlier, a positive mindset sets you up for success, and helps you bounce back after setbacks. I try not to let negativity take up too much of my energy – turning it into motivation helps. And although there is often fear and/or doubt, it is being completely committed that brushes these feelings aside.
Resources I Use to Stay Inspired | I have read a few autobiographies (Johnny Wilkinson, John Smit, Herschel Gibbs) – I find it very interesting getting an insight into the way other professional sportsman go about their business. I love watching YouTube clips of brilliant performances/highlight packages – I find them very motivational.Lastly, I am a Christian so I try to feed my soul by through readings, sermons, dvd's and music!
Best Advice I've Received | "Always try to have fun, because you play your best when you are having fun!"
On Inspiring Others | I am fortunate to be surrounded by many great people that I get to "work" with. It isn't difficult to stay motivated being around them. I am also very lucky to have such strong support from my family and close friends.
I am Inspired By | I have admired a lot of people growing up. But I think the one that stands out for me is Roger Federer – for the humble way in which he conducts himself.