Pam Golding – what a life, what a legacy – thank-you. May your soul rest in peace.
Buying and selling homes while building an empire has enabled Pam Golding to travel a distinguished journey. Pam generously shares a wealth of her experience with us here: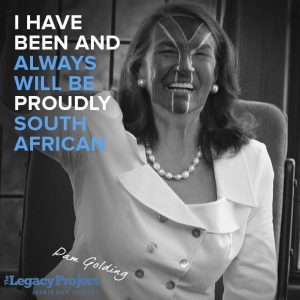 My Definition Of Success | I have always believed that if you are determined, have integrity and passion, show that you care, remain honest and true to yourself, and surround yourself with people that you nurture – it will lead to success. Success means different things to each one of us. It really depends on one's own aspirations. Personally, when I look back over the past 40 years of Pam Golding Properties, success has been enthusiastically doing what I am passionate about – selling property, networking and meeting interesting people from all walks of life. While not without its pitfalls, the entire journey has been great fun and predominantly positive. Vitally important to my success has been maintaining the balance between work and play and enjoying the support of my wonderful late husband and family.
The key principles of any business are the qualities of integrity, honesty, loyalty, professionalism and ethics, which remain the core ethics of Pam Golding Properties to this very day. However it is more than that which makes for a successful business – it's a combination of drive and entrepreneurial spirit, and a flair for innovation, including clever marketing. Trust your instincts, employ the right people and be courageous. Furthermore, one cannot underestimate the importance of business networking, whether on a local, national or international scale. And finally, once you have succeeded in establishing a successful brand, ensure that you retain the integrity of that brand, for it's almost impossible to place a value on brand equity – this coupled with strong client relationships is what makes clients return to you time and time again.
I Am Driven By | I pride myself on being not only totally committed, but also approachable, and involved on a personal level – both in the company's activities as well as with its people. Being a source of inspiration to all employees is a constant aim of mine, as is the need to make a contribution to and be involved in meaningful social upliftment programmes. In this regard the Pam Golding Training Academy has played a role not only in maintaining the highest standards of training among existing agents, but also in having assisted those from previously disadvantaged backgrounds from entering the industry.
Having started my own business from humble beginnings as a housewife with the sale of just one property – all those years ago, I can honestly say that there is nothing more rewarding than having your own business.
It takes courage, determination and a passion for whatever your particular skill or area of expertise is, for there are many obstacles to be overcome on the way to success. Whatever the size of your business, even if it is a one-man or woman operation, there is a tremendous sense of accomplishment and satisfaction to be gained from being in control of your own destiny, making your own decisions, and achieving your own success.  Trust your instincts in business and remember, an entrepreneur is one who dares to try, who hopes to make a difference, and who doesn't know how he or she gets there, but is determined to do so.I am reminded of one of my favourite quotations, by William Arthur Ward: If you can imagine it you can achieve it; if you can dream it you can become it.
My Highlights | Being awarded Business Woman of the Year, the first and only woman to have received this prestigious award (2001). The award opened so many doors for me enabling me to network widely nationally and internationally and Die Burger & Kaapstad Sakekamer Sakeleier van die Jaar  (Translated as: Business Leader of the Afrikaans Chamber of Commerce).
One of my greatest achievements has been building up a business to a large organisation from what for me began as a hobby. I was fortunate in being able to nurture a passion for property and a natural talent which I discovered, for matching buyers and sellers and in many instances, finding someone their dream home.
Being honoured by my agents by having an exquisite, new hybrid rose named after me – the Pam Golding Floribunda Rose.
The Difference Between Good And Great | While business skills and acumen are important, key ingredients in any successful business are courage, determination and a passion for whatever field you are in. If you wish to grow your business, it is important to employ those who not only have the ability but also have integrity, who share your passion and who have a positive outlook and zest for life. Be determined to succeed and remain totally committed to your career path, however, retain balance in your personal and business life.  Remain approachable and show empathy for others, and whether you are seeking employment with an organisation or hiring staff for your own business, ensure the 'fit' is right, in other words that you share similar values and work ethos. Follow your instincts and work hard in order to achieve success, for it is achievable. Be tenacious and independent; be positive, optimistic and ambitious. Accept all challenges and never give up.  Watch for the gap and go for it, and keep scanning the horizon for new opportunities! If you have determination and are focused, dedicated and ambitious – you will succeed!
A Key Talent | I have been told I have a sixth sense when it comes to property. Being a good listener and perceptive to a client's requirements is imperative in this business. An ability to sell combined with a love of selling property are essential ingredients, and equally important is the need to maintain the highest ethics and professionalism. I have always done my best to uphold these as key elements in my career.
The Characteristics Of Success | The Pam Golding Property group still reflects the very attributes of professionalism, ethics and service beyond expectation that were true 40 years ago. Instilled throughout the group's agent and staff, these form the cornerstones of the company's success today. This is coupled with a flair for innovation and leadership,
Principles I Live By | I owe the values that the Pam Golding brand is built on to these – values such as honesty, integrity, service excellence, and caring – these principles supported by a strong sense of energy and passion for what I and we do at Pam Golding Properties. No matter how large Pam Golding Properties grows, no matter where in the world we operate, we never forget that our business is not about bricks and mortar, it is about people!
Critical Skills I Develop | When I look back I realise that my school motto: .Facta non verba. – deeds, not words, taught me a great deal. When I consider that what began as a hobby for me has become a successful, international business, it is more gratifying than one can ever imagine. I first became involved in marketing real estate when my children were young – and more as a fun way of earning something extra in order to buy the odd picture or object d'art, but then my interest in houses became a passion to the extent that it became a springboard to a serious career in the property industry. However, the success of this business is due in no small way to the many people who are involved in the Pam Golding Property group, especially my son Andrew Golding, the Chief Executive, and each and every staff member.
Lessons I Have Learnt | I think we have successfully evolved over a number of years, the necessary difference between what is family and what is business.  And although this has taken time and effort, it has now reached a point where the lines are clear, which I think is a prerequisite to running a successful family business.
A family business is able to make decisions and operate in a manner which is less constrained and rigid than a traditional corporate business.  This enables flexibility, the business to be much more adaptable and for decisions to be made for the long term without necessarily having to consider the short term.
Dealing With Doubt | I started the company when South Africa was going through a recession, and people said I was crazy to go on my own. But I rarely take notice of things such as recessions! I was determined to succeed and that is half the battle already won.
Apart from the satisfaction of matching sellers and buyers – the latter often with their dream home – on a broader scale it is extremely rewarding being able to promote South Africa to the world, and to be able to network with so many interesting and highly respected people internationally. The spin-offs of marketing our properties, our people and our beautiful country are too many to list, however, foreign investment stands out as a major benefit to us all. I have indeed been fortunate to be in a position to play an ambassadorial role in so many ways.
Performing at my Peak |  I have always had a passion and love for what I do so I doubt I have ever performed at anything less than my peak!
Resources I use to stay Inspired |  Networking is something I also have a passion for as it involves people.
My future Dreams and Ambitions | As I am no longer operationally involved in the business, I now wish that my sons Andrew and Peter and daughter Jilly and their families, will continue and grow the success of what I have created and the success I have realised with Pam Golding Properties.
The Meaning Of Life | While trying to achieve a balance between career and personal life has always been a challenge, I feel I have always enjoyed the best of both worlds.
The Best Advice I've Received | From my dear late husband, Cecil, who gave me my ticket to success.  He suggested that I make the business personal, put it in my name and with my photograph on the advertising masthead. It's the brand Pam Golding that has created the recognition and given me access to the market. Today it's virtually a household name, and I am recognised by people from all walks of life.
Advice On Building Wealth | Residential property remains a sound investment option and has long been considered a valuable asset which presents the opportunity for sound capital appreciation over the medium to long term. Apart from being increasingly recognised as a sound means of wealth creation, having ownership of one's own home is in itself a means of securing one's own home for the future. Amid the global economic turmoil experienced recently many investors are increasingly turning to investment in solid bricks and mortar i.e. real estate as an important part of their investment portfolio.
There is no doubt that the old adage in property of "position, position, position" is as relevant now as it has always been.  Therefore the South African property market today is characterised by a wide variety of investment opportunities which remain consistent across all market cycles.  These include the traditional blue chip areas of South Africa's major metropoles, represented by suburbs in the Western Cape such as Bishopscourt and Constantia, Clifton, Fresnaye and Bantry Bay; areas in Gauteng such as Westcliff and Sandhurst; and uMhlanga and Durban North in KwaZulu-Natal.  The same would apply to the top suburbs in all the other metros around the country.
Obviously, these suburbs dominate the top end of the market.  At the other end of the scale and in recent times, the market has been characterised by significant demand in the more affordable housing sector and as a consequence of this, capital growth has been impressive.  As a result this could be a sector of the market in which to invest, depending on one's particular investment appetite.
As an overall comment, however, our view of residential property investment is that this needs to be considered as a medium to long-term investment, and on this basis it's likely that returns will be more than acceptable.
In terms of property type per se, over and above considering area and price, the different advantages and disadvantages of freehold versus sectional title and vice versa need to be taken into account.  Many sectional title residential developments offer sound value for money – particularly for the first time buyer – and a well run complex in a good area can offer an excellent return on investment over the medium to long term. They are popular for a number of reasons, including the fact that they offer a secure environment, good facilities and community living. Residents find them convenient, as they are able to simply 'lock up and go' without having to worry about the security of their home when they are away.
Regarding buy to let investments, we are seeing rising interest among home buyers looking towards a 'new urban' lifestyle within vibrant new growth nodes in major metropolitan areas.  The common denominator is that these nodes offer a convenient and highly appealing 'live, work, play' environment where you can even walk to work.  All this is provided in a prime location which offers not only easy access to a broad range of facilities and leisure activities, but also within a modern, dynamic and exciting environment with open 'green' spaces and attractive surroundings, and  which also provides a sense of community.
If you buy a property in a well established area where there is a consistently good rental demand, you may be almost assured of regular monthly rental income which may cover your mortgage loan repayment as well as rates and levies on the property, as long as you have geared it correctly.
Remember to ensure you can afford the investment, taking into account that interest rates or municipal rates may rise unexpectedly. If you plan on purchasing and installing a tenant on the property rather than living there yourself, ensure you can carry the costs of the property for a few months in case you are left without a tenant for a short period. Utilise an experienced real estate agent with a reputable company, with extensive market knowledge and statistics, who can provide you with all the relevant information and put you in contact with a mortgage broker who can obtain competitive offers from financial institutions. Try to reduce your loan as quickly as is possible, by paying more than the minimum monthly payment.
I Am Inspired By |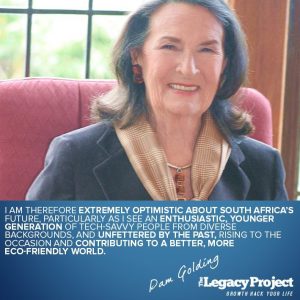 As a South African born and bred, I have been and always will be proudly South African and I am extremely proud of what our country has achieved over the years in the face of the variety of challenges encountered not only by us but by countries around the globe. I believe the key to our strength lies in our diversity and indomitable spirit. This is evident by the fact that despite the global economic crisis and ongoing tough trading conditions, we have over the years maintained a steady economy and resilient property market. We have proven we have the ability to stage world class events such as the resoundingly successful 2010 Soccer World Cup, when the world took note of our warmth and friendliness as hospitable hosts and when many discovered for the first time the scenic wonders of this vast country. I am therefore extremely optimistic about South Africa's future, particularly as I see an enthusiastic, younger generation of tech-savvy people from diverse backgrounds, and unfettered by the past, rising to the occasion and contributing to a better, more eco-friendly world.
The Legacy I Would Like To Leave | Whenever the next generation is ready and willing to begin a process of succession, then we will begin to manage, probably in the same way that successfully has been managed previously, by transferring the necessary skills and information to those family members to enable them to make a meaningful contribution to the business going forward.