Five years ago Nils started his own business focusing on his passion for bicycles. Then, having grown too large for the original studio on Woodstock main road, Woodstock Cycleworks moved into a warehouse in Searle Street, which is a much more suitable space for these builders of bicycles and promoters of pedal-power. They specialise in the servicing, restoration and customization of older bikes, Nils and his team breathe new life into the type of bicycle you might have gathering dust in your grandpa's garage.
My Definition Of Success |Success is what makes you happy in my books: for some people its material things or lots of money, but for me it's just doing what I enjoy and doing it well. When people and customers can validate the good service you provide, that to me, is success.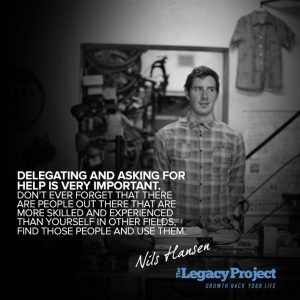 I Am Driven By | Coffee, good food and the need to help people out with their problems (in this case bicycles) and find solutions to help the communities around me. Being a resident in Woodstock for the past 10 years I have tried to help out as much as I could to uplift and make the area a safer and friendlier suburb.
A Key Talent | I would say my "crazy" funny character; it sometimes gets me in hot water but more than often puts people at ease and makes them trust what I have to say. I speak what I think and don't really hide things. I believe there's no point in beating around the bush but obviously while still being kind and sensitive to people's feelings. So I say, always speak your mind and don't be scared to see things differently. What I have learnt in life is that there are always two sides to the story and you should respect both but it's not wrong to feel strongly about one or the other.
The Characteristics Of Success | Everything in life is about problem solving and my love in finding solutions to problems put me in a good position for life. I have loved problem solving from a early age, I also love art and design and this only gives you more creative abilities to solve life's problems. Being brave and not being scared to make decisions and move forward is also a very important asset. There is really no point is waiting for other people to sort things out. Rather evaluate the problem as quick as you can and make the necessary steps to counter or correct the problem. Delegating and asking for help is also very important. Don't ever forget that there are people out there that are more skilled and experienced than yourself in other fields, find those people and use them.
Principles I Live By | Be your unique self and trust your instincts.
Performing At My Peak | I think this is almost impossible in the current world. If you are good at what you do, then automatically more work comes your way and often it gets too much. In the case of our shop, we get periods where we are simply too full and booked to help people, but this is not to say we don't help people. Best we can do is refer them to other good shops in the nearby area and if time is an issue, book them in for a future date and help them then.
Resources I Use To Stay Inspired | I love to see people and organizations doing cool and rewarding things. It's amazing to see how much effort people can put into projects that don't directly improve their life's but would rather help the less fortunate. Initiatives like Open streets and Moonlightmass in Cape Town show what can be done with the ideas and motivation of 1 or 2 people. Both these movements take a lot of time and resources to make happen but they influence thousands of people and really make people get out there and view the world differently.
The Meaning Of Life |  WOW! Sometimes when you see all the hate and sadness around you in the world, you really actually wonder what the meaning of life is. For me its probably trying ones best to make a difference and put yourself out there for others. Explore and appreciate the worlds beauty and try find solutions for its problems and faults. Life is there to be lived and enjoyed.
The Best Advice I've Received | Never be scared of making mistakes.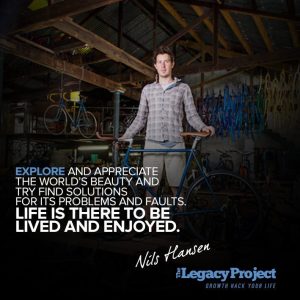 I Am Inspired By | I love Muhammad Ali. I wasn't around at that time when he was in his prime but from what I have read, he was such an awesome human being. He fought the biggest and bravest fighters and won. He had a clever and witty mind and was never scared to speak his mind. 
The Legacy I Would Like To Leave | Not really a legacy but would like to be remembered as a good, honest, humble but still slightly "out there" type of guy. There is really no point in being normal and fitting in nowadays, rather put yourself out there and explore what the world has to offer.