As CEO of DoSomething.org, the largest organization for teens and social change in the world, Nancy Lublin is able to name all 4 members of One Direction without a smidge of sarcasm. An expert on youth, social media, and pop culture, brands like Pepsi and Chase and several tech start-ups have sought her advice and Fast Company has named her to their Most Creative People list. In 2013, while still CEO of DoSomething.org, Lublin turned her popular TED talk into her third company, Crisis Text Line (CTL). CTL is the first 24/7, free, nationwide text line for teens. Prior to leading DoSomething.org and CTL, Nancy turned a $5,000 inheritance into Dress for Success, which helps women transition from welfare to work in more than 125 cities in 15 countries. Nancy is a Young Global Leader of the World Economic Forum named Social Entrepreneur of the Year in 2014.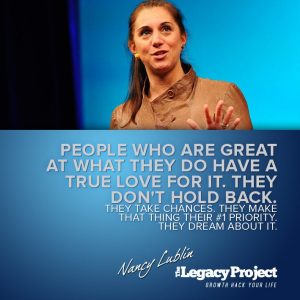 I Am Driven By | Fear of boredom. Fear of not mattering.
My Highlights | Giving birth and breast-feeding my children. Starting dress for success and leaving it. The relationship i have with my employees, based on mutual kindness, fun, and shared purpose. These are the things of which i am most proud.
The Difference Between Good And Great | People who are great at what they do have a true love for it. They don't hold back. They take chances. They make that thing their #1 priority. They dream about it.
A Key Talent | I am extremely direct and honest. I speak quickly. I make decisions fast. I am transparent. This is my superpower. Everyone around me knows exactly where they stand. I'm never phony of political.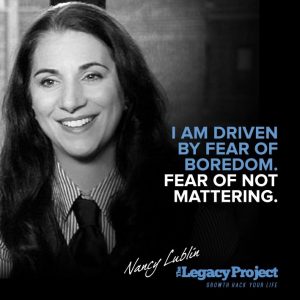 The Characteristics Of Success | Sense of humor. This is so darn underappreciated! I'm really funny. And i love people who are also funny–especially if you are comfortable making light of yourself. It takes intelligence to be witty. And it takes humility to laugh at yourself.
Critical Skills I Develop | I had to learn that someone else didn't have to lose in order for me to win. This was a super important lesson for my success and happiness.
Dealing With Doubt | Self-doubt is a form of fear. It's an emotion meant to stop us. But that's all it is, just an emotion. It's not a reality or a thing, it's just an emotion. We can control our emotions and push past it. The key is to recognize when you are feeling self-doubt or fear and just talk yourself back to truth.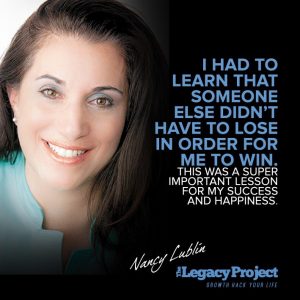 Performing At My Peak | I have the world's greatest assistant. She is my backbone. She makes me better every day. If I really need to perform, I drink a Frappuccino. I'm not a coffee drinker…but one of those suckers fires me right up!
Advice On Building Wealth | You are aiming for the wrong thing. And you will never be satisfied.
I Am Inspired By | Nelson Mandela is my inspiration. Yes he was an incredible leader and sacrificed so much of himself for the greater good–but the most interesting part of his legacy is that he forgave his oppressors and reconciled the nation because it was simply the right thing to do. No religious motivation. No promise of salvation. No higher calling. Ghandi, mlk, mother Theresa all had a higher purpose. Mandela served justice.