Mike is the Founder of Dedicoal, a mining and beneficiation company, Executive Chairman of Masimong Group, and Non-Executive Director of Rolfes Technology Holdings. He serves as Chairman of the Richards Bay Coal Terminal and was Non-Executive Chairman of Optimum Coal. Mike was formerly Director of Human Resources at Impala Platinum and previously worked in HR at Bayer and Samancor. He was also Vice President of HR at Ingwe Collieries and has held directorships in various listed companies. Mike completed his MBA at UNISA (Open University), following a BA.Ed, B. Ed (University of the North) and a BA (Hons) (University of Johannesburg).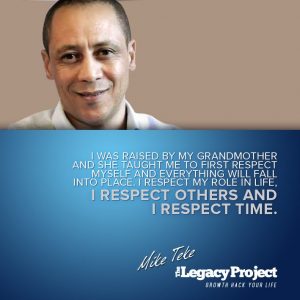 My Definition Of Success | Success means being a great human being and a great citizen of the world who is valuable to the entire humanity. My definition has changed indeed as I had an impression that success was purely material.
I Am Driven By | I am driven by making things that make a difference in people's lives happen. I am driven by the fear of failure.
My Highlights | From an impoverished background to creating success for myself and my family. Stepping out of my comfort zone in the world of employment and venturing into the business world.
The Difference Between Good And Great | It's the hunger for success and staying focused. Just focus.
A Key Talent | The ability to master the art of simplifying complexity. This is what life is all about. Hard work has never killed anyone and don't be afraid to learn. Early to bed, early to rise makes a man healthy wealthy and wise! Just work, deliver and stay focused!
The Characteristics Of Success | I stay focused on a specific goal and I deliver; I am a plain hard working individual with extremely high energy levels; never struggle to understand the way the world function and I am driven by great results. Respect is core!
Principles I Live By | Respect and Honesty. I was raised by my grandmother and she taught me to first respect myself and everything will fall into place. I respect my role in life, I respect others and I respect time.
Critical Skills I Develop | I worked hard on my skill to stay focused on achieving what is critical in my life and my ability to make even the toughest decisions. It's honourable to be respected, even with the toughest decision.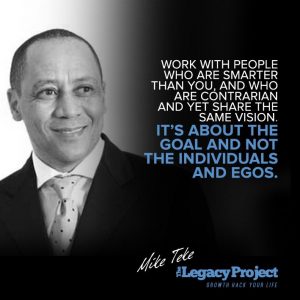 How I Use My Mind | I push myself to work out almost every day and have the strong will power in making choices. I am mentally strong and not easy to influence.
Lessons I Have Learnt | I have learnt to be a better listener; I have learned to control my temper and my grandmother taught us to stay humble during the best or the worst of times.
Dealing With Doubt | When I was requested to takeover as CEO OF Optimum Coal Holdings I really became worried about it and had the fear that I could fail but I just went for it. I could have easily been a negative human being as I grew up in an ordinary family that did not have enough and as an orphan, I could have taken a back seat in life but I have always stayed the course and I am always positive and I am driven. I have a big match/ occasion temperament (in a humble manner)
Performing At My Peak | Work out properly, eat well and have a great night sleep!
Resources I Use To Stay Inspired | I swear by my grandmother's life lessons; Inspired by Steve Jobs and my previous Bosses. I read Ram Charan and Jim Collins.
My Future Dreams And Ambitions | I am building Masimong Group(working with a CEO I like and a great team) to be a formidable success story, raise great citizens in two my children(Boikanyo 21 and Tshiamo 16) and still wish to make a difference in the lives of those in less fortunate positions than me.
The Meaning Of Life | Simplifying complexity and making a difference.
The Best Advice I've Received | Just stay focused.
Advice On Building Wealth | Be prepared to endure the pain of hard work and disappointment. Stay focused and stay humble.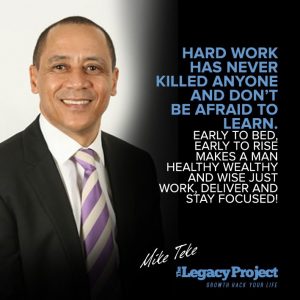 On Inspiring Others | Work with people who are smarter than you, and who are contrarian and yet share the same vision. It's about the Goal and not the individuals and egos. Provide feedback adequately!
I Am Inspired By | My late Grandmother, Mr Philip Hechter, Mr Apollos More and the late Steve Jobs.
The Legacy I Would Like To Leave | An empire builder who made a difference.