Matthew Wild is one of the most versatile and prolific South African theatre directors of his generation, equally at home staging operas, musicals, new plays and classic texts. A two-time Fleur du Cap Award winner, and one of the Mail and Guardian's 200 Young South Africans for 2012, Matthew's productions have been seen on stages throughout his homeland, as well as in Ireland, Sweden and Australia. In early 2015, he was appointed as the Artistic Director of Cape Town Opera.
Matthew made his opera directing debut in Sweden in 2009, with Boesmans' Julie for NorrlandsOperan and Malmö Opera. In the years since, he has created acclaimed productions of Il viaggio a Reims, Suor Angelica, The Rake's Progress, Cosi fan tutte, Don Giovanni and The Medium in South Africa. He returned to Stockholm in 2013 to direct the premiere of Philip Miller's Between a Rock and a Hard Place.
 His work in spoken theatre stretches back to his professional debut in 2000, with the self-penned drama More, created while he was still completing his studies in Drama and English at the University of Cape Town. Notable productions of contemporary scripts include Brent Palmer's Witnesses, John van der Ruit's Crooked, Pieter Jacobs' Dalliances, Brett Goldin's Bad Apple, Nhlanhla Mavundla's A Man and a Dog and Nicholas Spagnoletti's Special Thanks to Guests from Afar. He made his Shakespearean debut with The Comedy of Errors at the Maynardville Open-Air Theatre in 2012, a production which earned him a Fleur du Cap nomination for Best Director. 
 Most recently, he has won widespread acclaim for a series of musicals for the Fugard Theatre. His multi-award winning production of The Rocky Horror Show opened in 2013, and closed 19 months later after 444 performances. His staging of Kander and Ebb's Cabaret opened at the same theatre in early 2015, followed by a major new revival of West Side Story at the Artscape Opera House.
I Am Driven By | Theatre has been my life's passion since I was a teenager and it's my job now as well. The thing that I'm most passionate about in life is the fact that it's also my job. It keeps me really motivated all the time.  I think one's quite lucky if one can work in a field that they are completely and absolutely passionate about. For me, it just means that I'm motivated around the clock and so I never look for extra motivational drive.

My Highlights | I think working in theatre  the moment that I feel really proud of something that we've made is when you realise that the product onstage has had a really big effect in someone's life.  You know that kind of rare moment when everything comes together and you can have a huge effect on someone's life. By either giving them a memory that they will literally hold onto for the rest of their lives or in some way, having at least communicated something profound to them that changes the way that they're living their lives. I think art can really do that, I think opera  can do that and I think theatre can do that. It's the reason that I love working in it.
It's not often that you get all the elements right and you're able to have this type of really big impact. When someone comes up to you and tells you that something that they saw on stage really changed their life in some way that really means a lot.
The Difference Between Good And Great | In my experience, to become great in this field, you've got to have a real openness to learning. You need to be continually open to feedback that's going to help you improve. You need to be good at ignoring and shutting out feedback which is only destructive and is not helpful for you. And I think you need to do a lot of self-examination along the way to sort between the aspects of your work which are going well and the places where you need to put your energies to get better.
I've seen a lot of people in this field who show immense promise at the beginning of a career but somehow never seem to get better from there. And I've seen some people who've seemed to display less talent in the early stages, but because they're improving so rapidly, five or ten years down the line that they've become absolutely great at what they do.
A Key Talent | I think there are two things and the one is simply working long hours. I continually work long hours and I have for a long time. I think that's a quick way to give yourself an edge over people who only want to work six or seven hours a day. I don't think I'm always the fastest or most productive worker but I do manage to pack a lot into a week by working fairly around the clock.
I like what I do, it doesn't feel like work but I do think that that long hours are helpful. The other thing that I realise every year that is extremely important is maintaining and building relationships with as many people as possible. You have no idea at the beginning of your career who is going to be working where in ten years' time. And if you can build up relationships that are respectful and sincere then you will find that you've got a greater network of people who like to work with you. And I think that's incredibly important.
Dealing With Doubt | To be honest I think like many people in my field, dealing with self-doubt is a daily battle. I think most creative people who are serious about what they do have a lot of self-doubt, a lot of self-questioning, and as soon as you're working on something new and creative you're continually battling between, wow I'm excited about this and then sitting there going, this might be an awful idea, and I've got all of these people working on this project already and we're spending so much money, and is it going to work?
So for me, managing that is a daily battle. I don't know if it goes away. It's pretty important in the sort of work that I do to remind yourself that you're only making theatre. You're not doing open-heart surgery and at the end of the day, generally the worst thing that you can do is produce a bad show. Which isn't the end of the world although it does sometimes feel like it when you've worked on it very hard for two years you know. I wish I had simple solution for that one but for me it's it's a difficult ongoing battle.
Resources I Use To Stay Inspired | This is really important for me because I'm quite conscious that one's doing a lot of creative work you're continually outputting, you're continually creating ideas, trying to make ideas with the collaborators around you. You're continually sending creative thought outwards. I think it's so important that you're stocking up with creative input the whole time to do this. Otherwise after six months you just feel like your inspiration's running dry, you feel exhausted you feel like you've put out too much and you don't have too much left.
I'm really conscious on keeping stocked up on new things, things to inspire me, new ideas and new images. I'm really lucky that opera is a international industry and I do get to travel quite a lot as part of my work. For me, travelling is always the best way to do this, as soon as you're in a foreign country you've continually got a load of new influences around you, such as new books and new magazines.  It's fantastic that in our internet age, we can access so much on the web and through YouTube. I think that's a huge advantage over creators twenty years ago. I always find that after some time in a foreign country, inevitably one's just soaked up a lot of the inspiration.
The Meaning Of Life | I think if you have a vocation, if you have felt strongly at a certain point in your life that there is one thing that you should be doing then I think it's important that you try and honour that and you try and make the best contribution to that field that you possibly can. Theatre is certainly that thing for me and many times in my career I've kind of thought I'm going to do something else or work in the corporate sector or work somewhere where there's more money available. Each time I've gone off for a few months and  I've ended up getting sucked right back into this. It's taken me a long time to just realise that I'm only happy working, doing this and it's the thing that I should be doing.
Whether I'll be like that for the rest of my life I don't know. I'm only thirty-seven and a day may come when that may change. However I think if you do feel a real affinity with one area then you should really give it a go and find out where in that area you can make a contribution.
The Best Advice I've Received | Someone once told me not to take things personally. Which I think has been the most useful advice I've ever received. It's realising that everyone does the things that they do, largely because of the factors in their own life, and very seldom are they trying to be malicious towards you or trying to make your life difficult. If one learns to understand the actions around you, not as attacks on yourself but as other people trying their best in their own field. I think it allows you to be less emotional and less defensive. Work out how to work with the people around you and get the best results.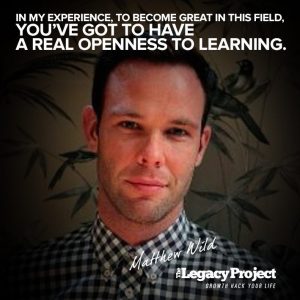 The Legacy I Would Like To Leave | Theatre is by its very definition a fleeting thing it's something that happens for a particular period of time and then it's gone forever and it can never be recreated as it was. If I can have given a number of people moments of theatrical magic that they will never forget, if I can have people within the lifetimes of my shows, still saying one day, wow, there was, there was a moment of magic so beautiful that it made me cry and I've never forgotten it then that's good enough for me.